Friday, November 19th, 2010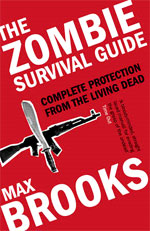 World War Z is one of the all-time greatest books of all time, so of course I rushed out to read its forebear The Zombie Survival Guide with the frightening speed of a 28 Days Later-style zombie1.
I was not disappointed: Brooks's style is both weirdly realistic, darkly humorous, and incredibly detailed. The man has given a lot of thought to zombies and how one might escape them. And you have to respect that. (Though I disagree with his contention that remaining in a dense urban area following the zombie apocalypse is a bad idea. Once the majority of the population flees the zombies are sure to disperse after them, leaving you in safety, or relative safety at least, and surrounded by plentiful supplies. Right…?)
But if you're not a huge zombie aficionado and one zombie book per lifetime is your upper limit, I'd recommend World War Z over Survival Guide.  The narrative thrust of World War Z is far more compelling and potent, whereas Survival Guide has literally no story (at least till the final chapters, which detail "suspected" zombie attacks throughout history. And even they don't really form a true narrative). It is what it says it is – a survival guide – and though it's superbly written some readers may find that the joke wears thin pretty quickly.
which, it's made clear in Survival Guide, aren't real zombies, who are lumbering idiots fixated only with feasting on the flesh of the living [↩]