Friday, January 6th, 2012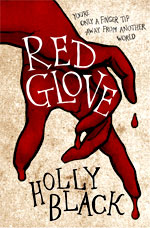 The best argument against the existence of the supernatural is this: if all that stuff was real, someone would exploit it for profit. (There's a great xkcd comic about it.) In Holly Black's series The Curse Workers, magic is real – and it's exploited for profit.
Curse workers – those who possess the ability to alter memories, invade dreams, transform one thing into another, or other fantastic powers – rule New Jersey's organised crime. Think The Sopranos with magic, but instead of a focus on Tony Soprano our hero is Cassel Sharpe, the youngest member of a worker family tangled up with a powerful mob syndicate.
White Cat, the first Curse Workers instalment, detailed Cassel's discovery of his place within his family and the worker world. It was a great book, honestly, but felt light-weight despite its heavy themes – high on set-up, low on plot. But! All that establishment in White Cat means we know the rules coming into its sequel Red Glove, freeing Black up to get into the meaty stuff. And she gets right to the meaty stuff.
(Some spoilers ahead for White Cat.) (more…)