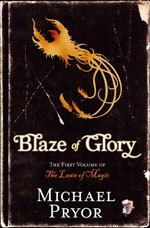 When I was a kid I loved pretty much everything Enid Blyton wrote, with a couple of exceptions. First among these was Noddy (that little prat). Second was Fatty, the so-called "hero" of the Five Find-Outers series. Fatty was a rich, boastful boor (who was obsessed with "slimming", though he never seemed to lose any weight), and his adventures left me with a long-running distaste for tales of the English upper-class.
The Laws of Magic novels, of which Blaze of Glory is part one, are about Aubrey Fitzwilliam – a very rich, very clever, very absurdly named English toff who attends a posh boarding school and is the son of a prominent politician. By rights I should hate him. But I don't, and I think it's because Michael Pryor is playing with the conventions of a genre I once loathed.
And doing an awfully good job of it. For example: Aubrey's best chum George constantly calls him "old man". And at one stage he dresses himself up as a street urchin called Tommy Sparks. Tommy Sparks! Brilliant.
Superficially, Laws of Magic is a lot like Harry Potter: both are about slight, dark-haired, magically gifted teenagers with a knack for landing themselves in the thick of mysterious events. But Blaze of Glory is rife with a political intrigue that's absent from the Potter novels (from the early ones, at least): it's set in an alternate universe in the early 20th century, as "Albion" is on the verge of war with "Holmland" (stand-ins for England and Germany, respectively).
Aubrey and George are invited to a shooting weekend at the Crown Prince's palatial country estate, joined by politicians, aristocrats and foreign diplomats. Aubrey foils an attempt on the Prince's life when he discovers a golem sent on an assassination mission – but who sent the golem, and why? … →