Saturday, April 7th, 2012
Back in the early days of The Simpsons there was pretty much no way of predicting which incidental characters would develop into major supporting roles (your Apus, Skinners, Flanderses, Moes, and so on), and which would vanish, never (or rarely) to be seen again.
Here are some of those Springfieldianites who could have broken out, but never did. (Note that, generally, I didn't include characters voiced by celebrity guest stars. Characters who only had lines in one episode are noted as such – a couple of them pop up in the background of later episodes.)
Dr Wolfe, the Simpsons' dentist ('Last Exit to Springfield'. "Dental plan!"). I'm surprised this character (who was intended to be voiced by Anthony Perkins, who died before he could record the part) never came back – Hank Azaria's delivery of "Why must you turn my office into a house of lies?" at least deserved Jasper-level recurrence.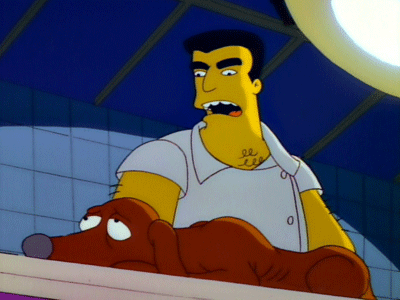 The Simpsons' veterinarian ('Dog of Death), who flunked out of dental school. (Apparently he's based on Ben Casey, a character from the '60s medical drama of the same name - the eyebrows are certainly the same).
The Seven Duffs: Tipsy, Queasy, Surly, Sleazy, Edgy, Dizzy and Remorseful (a Simpsons fan who can list all seven off the top of his head truly has something to be proud of). Oh sure – you might say there was no possible way to expand on a pretty shallow beer mascot joke. To which I reply: Duffman.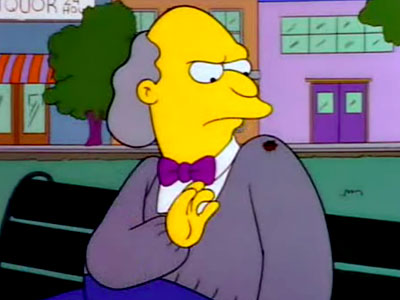 Dewey Largo, Springfield Elementary's (apparently pretty mediocre) music teacher. He's had a couple of memorable scenes: "This is not a dream!", the forbidden music, and "Ew, a bug!" The writers did attempt to flesh out Largo's character  bit: Bill Oakley revealed that the original script for 'Sweet Seymour Skinner's Badasssss Song' included a line implying the teacher is married and closeted.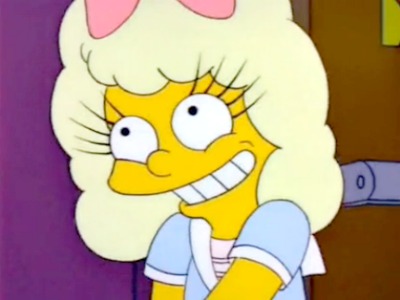 Amber Dempsey ('Lisa the Beauty Queen'). "Not. In. Paraguay."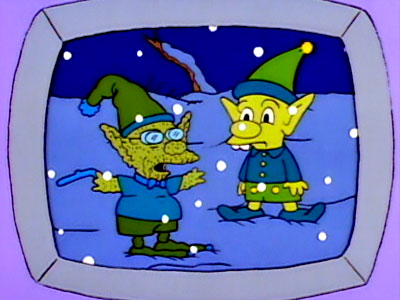 The Happy Little Elves. These critters, it turns out, have names: they include Moldy, Bubbles, and Yendor (?). The Elves featured heavily in very early episodes of The Simpsons, but eventually appeared less and less as Itchy and Scratchy became the show's go-to cartoon satire.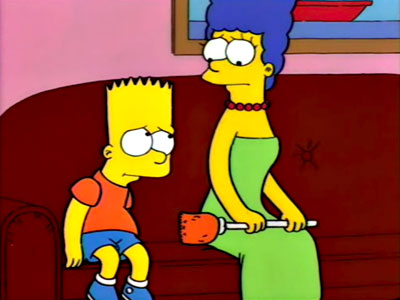 Arthur Bouvier ('The Boy Who Knew Too Much'). Marge's brother – yes, Marge has a brother, though he's never been seen and was only mentioned once. Marge tells Bart "[his] uncle Arthur used to have a saying: 'Shoot 'em all and let God sort 'em out'. Unfortunately, one day put his theory into practice. It took 75 federal marshalls to bring him down. Now let's never speak of him again." They never did.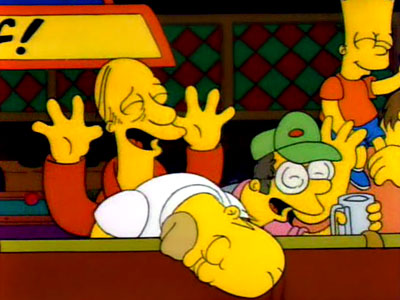 Sam and Larry, two barflies who frequent Moe's Tavern. (Sam is the one with the green trucker hat. I first learned his name via an old issue of Simpsons Illustrated1, and it stuck for obvious reasons.) As far as I can recall, neither of them have ever had any of their own lines in the show.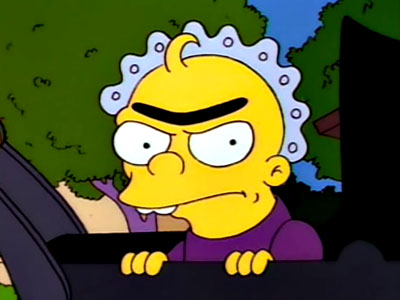 Gerald, the baby with the one eyebrow. Who is Gerald? Why do he and Maggie hate each other so much? Why does he get into so much mischief? I guess we'll never know.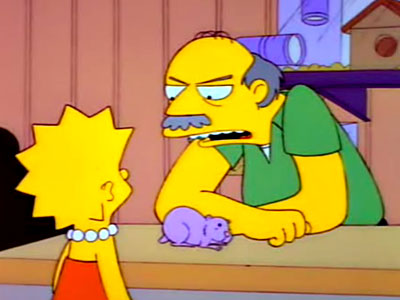 Raphael, the sarcastic guy. I actually had no idea this guy even had a name – apparently he earned it in a season 12 episode – till I started this post. (It's also spelled Rafael, depending on the source.) He's recurred many, many times during the series, having worked pretty much everywhere in Springfield, though he's never been more than a minor character (and a terrifically droll foil).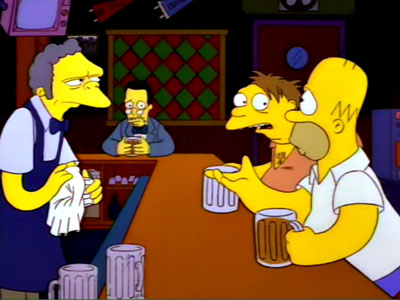 Joey Joe-Joe Junior Shabbadoo ('The Last Temptation of Homer'). "Come back, Joey Joe-Joe!" But he never did…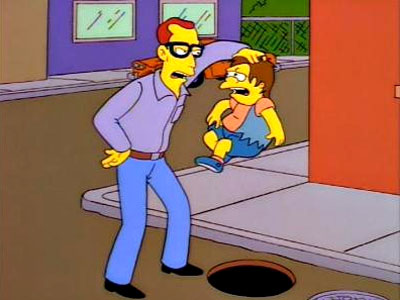 The Very Tall Man('22 Short Films About Springfield'. His appearance while driving his automobile was indeed comical, though the "doing things while tall" joke would've worn thin had he recurred. Probably.
Worker and Parasite ('Krusty Gets Kancelled'), the Eastern-bloc cat-and-mouse duo who all-too-briefly replace Itchy and Scratchy. A Salon.com article describes Worker and Parasite (Worker is the mouse, according to in-depth Googling) as an animators' "inside" joke, though I don't think it is. Even knowing nothing about Cold War politics or animation history – as I didn't when I first watched this episode sometime in the early '90s – these characters are delightfully strange.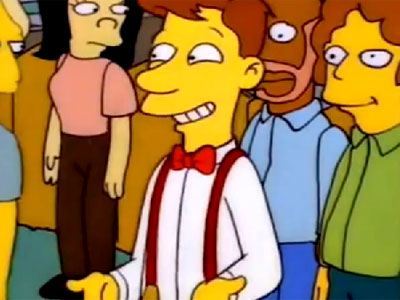 The Happiest Man in Springfield ('Hurricane Neddy'). What's with this guy? Why is he so happy? Does it even matter? I guess we'll never know.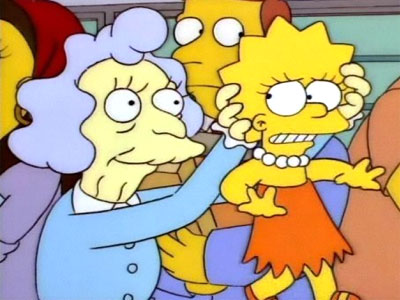 Mrs Glick. One day I'll host a Simpsons trivia night, and one of the questions will be "In which Springfield resident did Dr Hibbert once confesses to leaving his car keys?" I adore her mistreatment of Bart in 'Three Men and a Comic Book', her first appearance. Anyway, apparently she'll never be back, because she died in a season 23 episode (deep in Zombie Simpsons territory, so you can hardly blame me for not knowing that).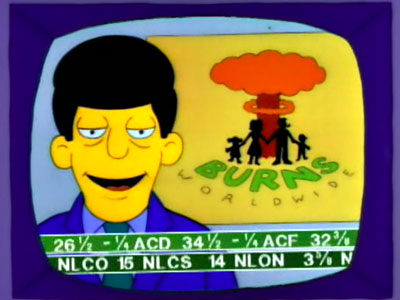 Scott Christian. Kent Brockman is Springfield's go-to newsreader, so no surprise that his bizarrely haired co-anchor Scott Christian never really registered.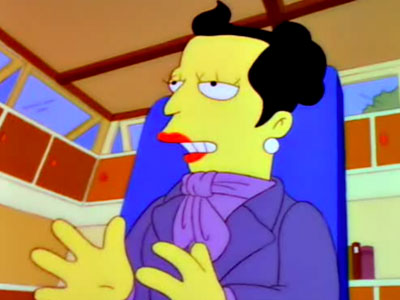 Ms Sinclair, of the Ayn Rand School for Tots ('A Streetcar Named Marge'). The Simpsons could have probably benefitted from more recurring female characters, and I'd've preferred to have seen more of Ms Sinclair than some of Jon Lovitz's other characters (ie, Artie Ziff – blergh). An extra point in her favour: her daycare centre apparently influenced the creation of Rugrats, so.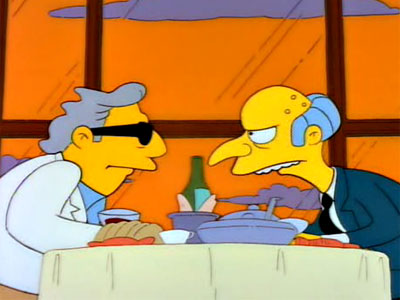 Aristotle Amadopolis ('Homer Defined'). Another Lovitz character, Aristotle would've been an ideal foil for Mr Burns; I'm surprised their rivalry never popped up again.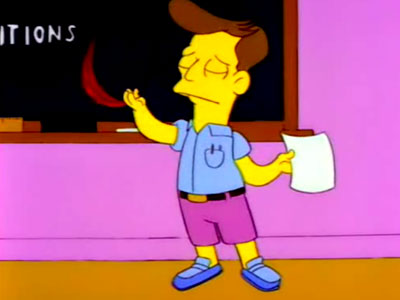 Rex ('I Love Lisa'). "Everyone knows I'm the best actor in this school!"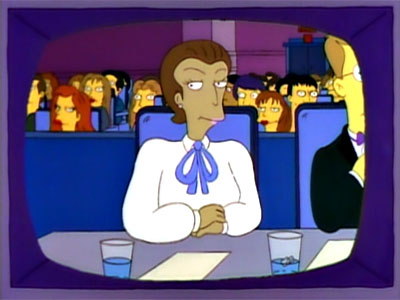 Skincare consultant Rowena ('Mr Lisa Goes to Washington'). There is something deeply hilarious about this. No, I don't know quite what.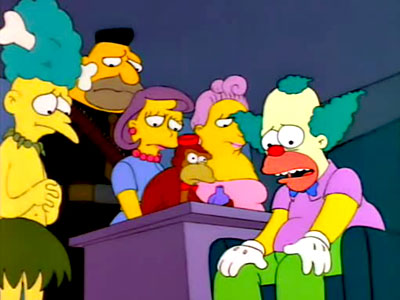 Miss Lois Pennycandy ('Like Father Like Clown'). Miss Pennycandy is one of The Simpsons' ultimate dropped characters – there was potential around the unrequited-love-for-Krusty thing, except the writers apparently forgot about her. (Also in the "forgotten Krusty associates" category: Corporal Punishment and Tina Ballerina. What were their stories?)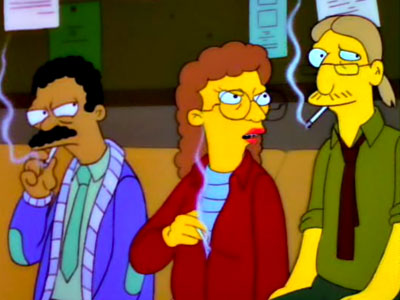 Springfield Elementary's other teachers. Google-fu turns up no names for any of these guys. I particularly like the middle one, another cynical Doris Grau character who's sceptical of Skinner's plan to hold unruly students in place with magnets in 'Dog of Death'. The hippie-looking one on the right, by the way, is the teacher responsible for the famous "Purple monkey dishwasher" line.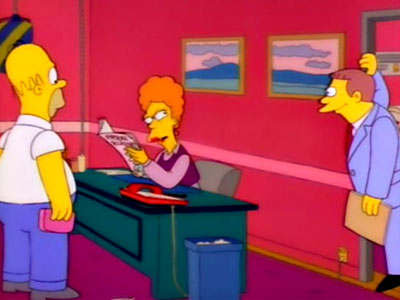 Della, Lionel Hutz's assistant ('Bart Gets Hit by a Car'). Yet another cynical Doris Grau character, and reader of Popular Secretary magazine.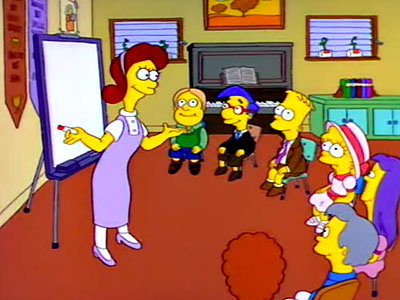 Ms Albright, the Sunday school teacher at the First Church of Springfield.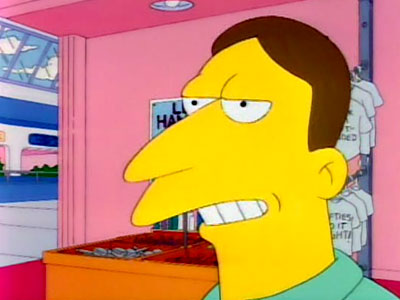 "Just Stamp the Ticket" Man, aka, the biggest asshole in Springfield. This guy has no apparent name, and only one apparent character trait: jerk. His nickname came about after his first appearance in the series, after he rudely dismissed Flanders' cheerfulness by demanding to have his parking validated.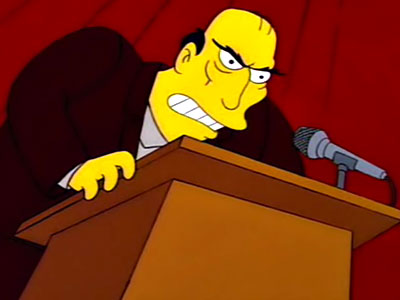 Leopold. What is Leopold's job, anyway?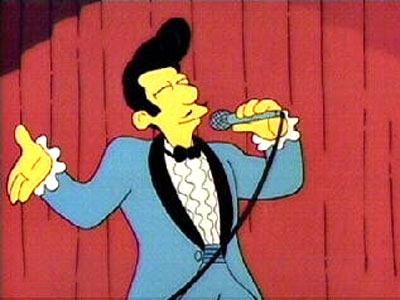 Gulliver Dark ('Homer's Night Out'), the lounge singer at the Sapphire Lounge where Princess Cashmere works. What's kind of interesting about Gulliver – aside from his name – is that he was voiced by Sam McMurray, who played the live-action version of the character in The Tracey Ullman Show. Simpsons trivia! Gulliver returns as the singer in Tito Puente's band in 'Who Shot Mr Burns – Part 2′, though he wasn't voiced by McMurray second time around.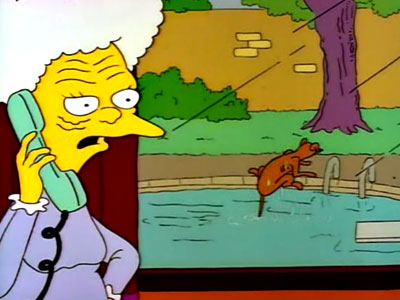 Mr and Mrs Winfield. They were the Simpsons' neighbours on the non-Flanders side. The reason they never reappeared: they departed Springfield in the episode 'New Kid on the Block', apparently because they disliked the Simpsons so much.
And here's a pretty definitive list of Simpsons characters to round things out.
Remember Simpsons Illustrated?!?! [↩]