Friday, May 27th, 2011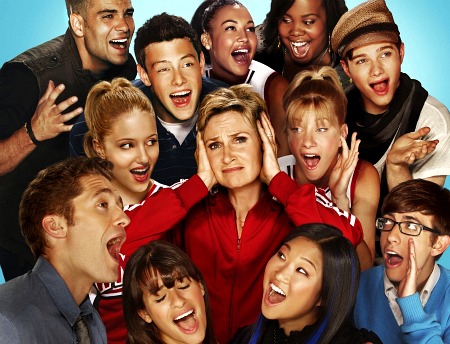 Glee superfans – those pale, shivering types who rabidly defend the series as "whimsical" and who are plotting to assassinate Steve Levitan because Modern Family stole the Emmy last year – will no doubt answer the question posed in this post's title with a sugar-coated "All of them!" Oh, Glee superfans! Your optimism is painfully naive! The sad truth is, many members of Glee's young cast will disappear into permanent obscurity when the series ceases to be profitable even faster than the pop-culture machine got sick of Lady Gaga.
Here is a (completely subjective) ranking of which Glee cast members will remain in the limelight, from most likely to least likely.
Jane Lynch. Have you seen Jane's pre-Glee resume? The lady had parts – ranging from "bit" to "recurring" – in damn near everything. She will continue to land parts in damn near everything long after Glee, I hope! No matter how annoying and one-note Sue Sylvester becomes, Jane will forever remain awesome.
Lea Michele. Lea has at least a couple of guaranteed film roles coming up in the next couple of years – if she doesn't play Elphaba in the inevitable movie adaptation of Wicked, I will eat my pointy black hat. (Admittedly, the endurance of Lea's fame is directly related to whether or not she can shake off that "Rachel Berry" persona. If every character is all fluttering eyes, pouty staginess and a vague sense of is-this-girl-going-to-shut-up-or-what, her best-before date will advance several decades.)
Naya Rivera. Yes, Naya Rivera! In early episodes of Glee, her character Santana is hardly featured at all. But! Its writers obviously cottoned on to her awesomeness quickly, because by the second half of season one she was getting to sing and everything, and by season two she earned her very own storylines! I think Naya has the potential to play much more than bitchy lesbian cheerleaders. I think she will be starring in a mix of romantic comedies and serious dramas in future years – think a non-white, non-goodie-two-shoes version of Anne Hathaway.
Jayma Mays. This may seem like a surprising choice to put so high up the list! But Jayma's most notable pre-Glee roles, in Ugly Betty and Heroes, demonstrate she is a pro at playing both innocent ingenues and catty sweethearts. She should keep doing that! (Prediction: in the not-too-distant future she will play the kindly, non-threateningly attractive mother in every TV pilot ever.)
Cory Monteith. Cory will never be a huge star. He's too everyman for that – handsome, but not memorably so; talented, but not memorably so, et cetera. However. Can't you totally picture him playing the kindly doofus older brother/cool young uncle/kindly dad in TV sitcoms for years to come?
Dianna Agron. I interviewed Dianna once, and let me tell you, she is one of the most stupendously beautiful women I have ever laid eyes on. Seriously. Quinn Fabray-on-TV is a fug machine compared to the high-wattage dazzle of Dianna Agron-in-real life. Fingers crossed she will parlay her beauty and ability into a film career, snaring the "Blonde Lead" role in a string of predictable Hollywood rom-coms (kind of like what Katherine Heigl attempted to do, only Dianna won't be as hateful).
Heather Morris. Here's what I can't figure out: is Brittany S. Pierce a surprisingly hard role to play (thus making Heather a super-talented actress), or she a pretty simple, effortless role to play (thus making Heather a so-so actress)? Maybe it's the former? But I'm not entirely sold on that? Either way, Heather is beloved by Glee fans, ensuring her longevity as a Cult Star for decades' worth of TV and pop-culture conventions to come! (Plus: damn, girl can dance. If someone were to cast her in a show which was basically just her dancing in various situations, she would immediately shoot to the top of this list.)
Matthew Morrison. I realise Matthew is trying to launch a solo career as a musician. Which is good for him (so long as he never tries to rap ever, ever, ever again), though he's a bit old to play the "Justin Timberlake" market. However! His marketing team has hopefully realised there is a great deal of potential (and disposable income!) in the "approaching middle-age sexpot mother" demographic. Those ladies could keep Matthew's albums and tours afloat for years!
Chris Colfer. Maybe it's only because I don't like Kurt, but I can't see Chris playing any other roles which aren't prissy, annoying gay clones of his Glee alter ego – I hesitate to describe Kurt as "iconic", but the character is almost too iconic (is there a watered-down version of that word?) for Chris to ever move past. But! Apparently he is a burgeoning television mogul. So there's that.
Amber Riley. It would be awesome if Amber to remained a superstar – insert praise of her voice here! – but realistically, I can't see it happening. How would she be marketed? (If the dark god of marketing can't jam you up into your own tidy, specific box, you are doomed, and pop-culture's designated spots for Black Divas are already taken by Beyonce and J-Hud. Sad face.) (And, c'mon, the show made her sing a song called 'Hell to the No'. Damn, that shit is whack.)
Chord Overstreet. I guess Chord could have a solid career as one of those really famous country-music singers who no one else in the world ever heard of. (He sure has the name for it.) Or he could be an underwear model! Other than that, bzzt.
Harry Shum, Jr. Hey, someone's got to fill the casts of all those Got to Step Up and Street Dance movies, right?
Mark Salling. Though he plays a 17-year-old on television, Mark is approaching 30 (and he looks it, too. Least convincing TV teenager ever since Luke Perry). Everyone knows that once you turn 30, you stop being famous. Yes, I'm sure there's one or two examples that contradict my argument, but don't bother correcting me on this.
Kevin McHale. Fortunately, Artie was a member of a boy band in his pre-Glee days – and I'm told said boy band had a tiny but devoted following! (I know, right?) So maybe all those weirdos will keep following him around, or something.
Jenna Ushkowitz. Has anyone else noticed that Tina has had, like, zero storylines in season two? I get the feeling that if Glee's budget were suddenly dramatically reduced and several cast members were cut, Tina would be among the first to be shipped off to boarding school offscreen.