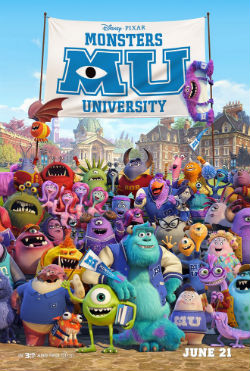 Sigh of relief, everyone: Monsters University is pretty terrific.
This was not a sure thing. Pixar can do good sequel: Toy Story 2 is one of the best sequels ever. And Toy Story 3 is even better than that. On the other hand: Cars 2.
Monsters University does not, luckily, reek of a sequel churned out to sell toys. It's a worthy successor to Monsters, Inc. (which for a long time was probably my favourite Pixar film. Or at least up there at the top of the list. It's almost impossible to choose just one favourite Pixar film). It's entertaining. It's smart. It's funny – sometimes very funny.
A+ grade to whoever decided to make the sequel to Monsters, Inc. a prequel, because there's really nowhere to go from Inc.'s lovely final shot. University takes us back to Mike Wazowski's (voiced by Billy Crystal – who didn't annoy me even once, which says a lot about how good this film is) and Sulley's (John Goodman) college days. The former is booksmart but lacks natural talent as a scarer; the latter is the exact opposite. They clash. They start to grudgingly respect one another's talents. Eventually, they become best friends. Their relationship flows perfectly into – and from – Monsters, Inc.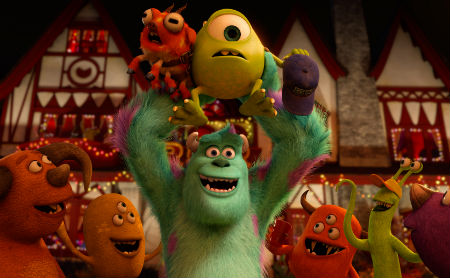 This is unashamedly a "college movie". The plot riffs on every Greek system cliche, packing in everything outsiders think of when we picture American colleges: parties, studies, fraternities, sororities, beautiful Ivy League-style campuses, no anxieties about how all this is being paid for. There's a point near the end when it seems Monsters U will have a standard (and disappointing) college movie ending – the nerd underdogs triumphing over the frat boys. A surprise third act rescues the climax, moves it into unexpected, more interesting territory.
(Slight spoilers: It's interesting that, though the film appears initially to fawn over the idea of college/university education, it turns out Mike and Sulley are college dropouts. Their success is because of their own hard work and skill at spotting opportunities, not because they have degrees. I don't remember if that was addressed in the first movie or not, but there's a nice parallel with the Mark Zuckerbergs of the world.)
See Monsters University on the big screen. It's stunning. The things they're doing with computer-generated animation these days are incredible. Every monster is a lush, furry, unique beast, bursting with energy and flexibility. They look like big walking Muppets. Preceding the feature is the short film The Blue Umbrella, whose charm is almost overwhelmed by its dazzle. Its rain-slicked city setting looks like a photograph brought to life.
Monsters University gives me faith that Pixar's next sequel Finding Dory will be good. But… not as good as its predecessor. Pixar's films have long been revered because they're fresh, they're inventive, they're awesome – in the literal sense of that word. Very little about Monsters U feels awe-inspiring. Pixar has its formula – a very good formula – but doesn't deviate from it. (This is why Cars has always bored me, I think – its story hits exactly the beats you expect it to hit, and nothing more.) University is enjoyable, polished, but it's lacking the darker, rich adult subtext Pixar built its reputation on. Maybe that era is behind them now.