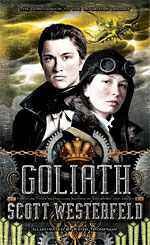 It's been a looooong time between instalments, but Scott Westerfeld's Leviathan trilogy wraps up with a sterling conclusion in Goliath. Probably the best word to describe the third and final part of the series is "cracking"… which is also the best word to describe the series as a whole.
Minor spoilers ahead for Leviathan, Behemoth and Goliath.
So! Fresh off their adventures in Constantinople, our heroes Alek – secretly a prince – and Deryn – secretly a girl – venture to Siberia, Japan and then New York City in the flying warship Leviathan. On their quest the duo encounters several historical figures – including Nikolai Tesla, William Randolph Hearst and Pancho Villa – and finally confronts the romantic tension that's been brewing between them the past two books.
Alek and Deryn are terrific characters, but Westerfeld's greatest accomplishment is the world he's built: set in the lead-up to World War I, the Leviathan trilogy pitches "Darwinists" (roughly equivalent to the Allied powers, who genetically engineer animals into terrifying war beasts) against "Clankers" (the Central powers, who battle with colossal hulking machines). There's a lot going on here. It might've been laboured, or too complicated. But Westerfeld handles it all so cleverly!
Grown-ups will get into Goliath but be aware it falls squarely into the YA camp (never a bad thing, but some adults are weird about reading books "for" teens). Know a smart kid who you want to indoctrinate into the awesomeness of steampunk and alternate history and science-fiction? Give them this whole series.
If there's a problem with Goliath, it's that the story hints – and Westerfeld's afterword makes it explicit – that 20th century history turns out very different because of Alek and Deryn. Their actions basically stop a world war. And that's only a problem because World War I is this huge terrible epic thing, and the threat of it looms over all three books, but then it… doesn't happen (or at least, happens on a much smaller scale than in our timeline). Which, on the one hand: yay, WWI averted, millions of lives spared. But on the other hand, from a narrative perspective, the climax loses some of its oomph.
But it's a minor quibble. Especially since I don't think this is the last we've seen of Alek and Deryn – or at least, not the last we've seen of the Darwinist/Clanker universe. With an entire century of history ready to be rewritten, Westerfeld's got loads of territory left to explore. (Also, I want to see the perspicacious loris Bovril talking for reals.)
Lastly, major credit must go to Keith Thompson's beautiful, lively illustrations, one of the true delights of all three books.
Previously: Book review: Leviathan, Scott Westerfeld, Book review: Behemoth, Scott Westerfeld