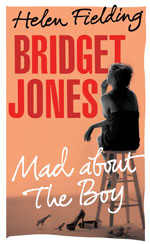 How comforting that, after all these years, Bridget Jones is still an idiot.
Now in her early fifties, she's grappling with raising two very sweet but very boisterous children (an early scene in which the kids are making horrific messes from both ends of their body could be marketed as an alternative form of contraception), and learning the complexities of social media. (Am smugly pleased to point out that, as far as I'm aware, she never gains more Twitter followers than me.)
And she's single. Again! Her one-true-love Mark Darcy is (horreur!) dead, killed by a landmine on a valiant mission to South Sudan. Which conveniently frees Bridget up for wacky and embarrassing hijinks (almost all of them self-inflicted) as she starts dating again – but which more conveniently adds much-needed depth to the book, as grief and sadness for Mark wash unexpectedly in and out of her everyday life.
Several reviews of this book deem it not v gd – some so harsh you'd think it was a horrifically unnecessary sequel in line with Sex and the City 2. Maybe those reviews softened me up, lowered my expectations – but Mad About the Boy is not a bad book. It's a Bridget Jones book! It's exactly what you expect from a Bridget Jones book! It's hardly groundbreaking (for example: the older-woman-dating-younger-men thing is more well-worn than a serial dater's most comfortable pair of Spanx) but it's light and frothy and fun. I read Bridget Jones's exploits because she is a charming idiot, and in Mad About the Boy she is a very charming idiot.