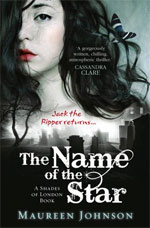 Rory Deveaux has two near-death experiences in about as many months: the first comes when she nearly chokes on dinner soon after quitting her native Louisiana for London – where she enrols at Wexford, a posh boarding school smack in the middle of Jack the Ripper's old stomping ground.
The location is important, because Rory's arrival coincides with the start of a series of murders that mirror the Ripper's infamous, gruesome killings. Is it a copycat at work, or something even more nightmarish?
As Rippermania grips London, Rory encounters a mysterious man who her (adorably English) roommate Jazza can't see. He's a ghost, and Rory's rare ability to see him grants her entry into a team that hunts London's "shades"… which ultimately leads to her second near-death experience at the climax of the book, as the Ripper's killings come to a head.
The Name of the Star has some great ingredients: English boarding school hijinks, murders, young people with implausibly awesome jobs with the police. But something about it is all a bit unsatisfying: I wanted the story to be more sinister, more romantic, more London. Johnson only captures flickering senses of the city and the sensational dread of the Ripper's return, and the plot twists are often contrived; when the villain's motives were revealed (via monlogue), my reaction was pretty much, "Why would anyone go to all the effort of X just to achieve Y?" And many of the supporting characters fall flat, though others are terrifically vivid – especially Rory's oft-mentioned, never-seen American relatives.
I really wanted to enjoy this but I just wanted more; it's less than the sum of its parts. Johnson is a lively, funny writer but The Name of the Star feels like it's going through the motions of setting up a new supernatural YA series, rather than transporting us to spooky and mysterious London.