Wednesday, January 11th, 2012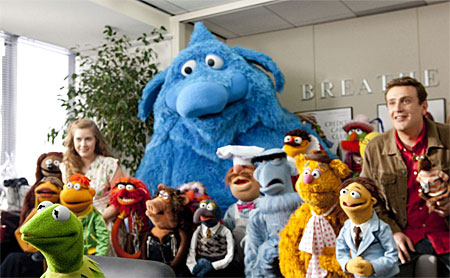 Surely there is no one in the world who hates the Muppets. Is there anyone in the world who hates the Muppets? No one in the world hates the Muppets.
But plenty of people don't care about the Muppets – not really care. People who know their names, and remember the gang with fondness, but don't think about them much. People like me! The Muppets never went away, because the internet keeps everything going (all those Muppet video parodies went viral for a reason) (at least till everyone got sick of them), but they lost what I guess you'd call relevance.
This isn't surprising: the Muppets are relics of childhood. You watched their TV show(s) and their movies (even the ones where they all played characters from classic literature for some reason) as a kid. Till recently their last (theatrically released) movie was 1999′s a-bit-of-a-hash Muppets from Space. So it's a bit like reuniting with an old friend to see them again in The Muppets – note the definite article in the title, declaring this is the big-screen outing that will make them pop-culture fixtures again.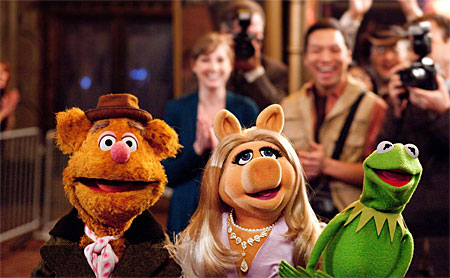 Leading man Jason Segal, who also co-wrote the screenplay, throws himself at the film with charming, catching energy. He plays Gary, a small-town American whose brother Walter (performed by Peter Linz), is a muppet; lower-case "m", because although Gary is unmistakably Henson-esque he's not one of the Muppets, though he's been obsessed with their TV show since childhood.
Gary and Walter travel to Los Angeles to visit the famed Muppet Theatre with Mary (Amy Adams, adorable as always), who's been dating Gary for 10 years. She's hoping for a marriage proposal but her relationship with Gary is stuck firmly in platonic territory, thanks to his attachment to, and dependency on, his muppet brother.
Arriving in LA, the trio discovers the Theatre has become a derelict wreck, slated for demolition by oil baron Tex Richman (Chris Cooper, whose character is evil because this whole film is anti-capitalist propaganda for children). Gary tracks down Kermit, a recluse since his separation from Miss Piggy, and convinces him to reunite the Muppets and put on one last show to save the Theatre.
The story then works out exactly the way you think it does, with a lot of celebrity cameos thrown in.
But that predictability is okay, because the movie is really, actually funny. The gags are silly and warm, and it's all so goofy and earnest, and that suits the Muppets perfectly – thank god no one thought it'd be necessary to inject any sass or irony or heavy reliance on pop-culture references. (That said, there are a couple of things that are going to date this movie bad, including a chicken-clucked rendition of Cee Lo's 'Fuck You' and cameos from Selena Gomez and, randomly, the fat kid from Modern Family.)
Aside from the classic 'The Muppet Show Theme' – that's a great bit of music, isn't it? It rivals The Simpsons' theme tune for its chaotic energy – there's some terrific original numbers, many of them penned by Flight of the Conchords' Bret McKenzie. The standouts are the super-catchy 'Life's a Happy Song' and 'Man or Muppet' (whose performance is accompanied by one of the movie's best surprise cameos).
It'll give you the warm and fuzzies – warm and Fozzies? – to watch Kermit and Piggy and Gonzo and the rest together again. The Muppets' biggest achievement is the nostalgia is arouses.
But that's maybe its biggest problem, too: this film wants to make the Muppets relevant again, but it attempts to do so by reminding us that the Muppets used to be relevant. There's a lot of scenes where everyone sits around reminiscing about the Muppet heyday that won't mean much to viewers – especially really young viewers – who aren't as enamoured with these characters as Segal is. Sure, by the time it ends there's no question that the Muppets were awesome. But the film doesn't do a great job convincing us they'll be awesome again, or that they deserve to be.
But it's not like you'll leave with the sense that they'll never be awesome again. It won't be a shock if the Muppets return to TV with a new variety series in the next couple of years. And there, in a format that's their natural heartland, where all the characters can be properly re-explored instead of trotted out for brief appearances, they might really earn their place in modern pop-culture again.