Sunday, October 31st, 2010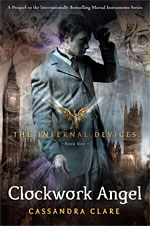 I've been a reader of Cassandra Clare for a while: in the early '00s I enjoyed her Harry Potter Draco trilogy (pretty much the only fanfic I've ever read, I swear!), I lapped up the Very Secret Diaries like everyone else on the internet, and last year I consumed her The Mortal Instruments trilogy in about a week.
Thus I am qualified to say that Clockwork Angel, the first instalment in The Infernal Devices trilogy, is her best work yet.
So Devices is basically a prequel to Instruments (it's not necessary to have read Instruments to get Devices, though I'd recommend it), set in a late-19th century London infested with demons and "Downworlders" – Clare's term for vampires, werewolves and other supernatural beasties. Fortunately regular humans, or "mundanes", are protected by the Shadowhunters: an elite band of warriors descended from angels (more or less).
Tessa Gray comes to this world from New York City, searching for her missing brother Nate, and soon encounters two teenage Shadowhunters and best friends: the beautiful, arrogant Will (who's basically the same character as Jace from Mortal Instruments, at least at this stage in the trilogy), and the sensitive, sickly Jem1 . Naturally a love triangle begins to blossom, as Tessa is pulled into a dangerous mystery building in the Shadowhunter world.
The individual elements of Clare's works are rarely that original, and that goes for Clockwork Angel – there's the usual steampunk tropes, familiar demon-hunting tropes, the character-types you'll find in most YA novels, all wrapped in customary snark – but that isn't an insult. Clare has a knack for combining stuff we've seen into an enjoyable, compelling story.
Clare's writing adopts a Victorian style which suits her well, but be warned that Angel is very heavily geared towards setting up the next two parts, Clockwork Prince and Clockwork Princess – don't pick it up yet if you're the type of reader who interprets "tantalysing clues" as "frustrating loose-ends".
Fortunately I am not that type of reader. Clockwork Angel is entertaining, dare I say ripping stuff, crammed with invitingly detailed world-building – I even read it during my lunchbreak at work, and let me tell you, I don't do that for just any book.
for the record: Team Jem! Will is the Bad Boy, and I'm not into the Bad Boy. [↩]