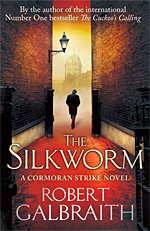 J.K. Rowling is a great fan of the densely plotted, complicated novel that doesn't seem like a densely plotted, complicated novel. The Harry Potter books are deceptively simple but go analyse Goblet of Fire or Order of the Phoenix and pay attention to the amount of plot turns and exposition and red herrings slipped into each chapter – details vital to making the conclusions work.
Rowling (or Robert Galbraith, if we're still pretending he wrote these books) brings that same deceptive simplicity to her (or his) Cormoran Strike books. There's no magic or fantasy here, but there are all the tropes of the classic murder-mystery.
The Silkworm is anchored by a troubled but ultimately good-hearted detective: wounded war veteran-turned-PI Strike, who's assisted by his faithful secretary Robin. There's the twisted and mysterious murder: reclusive author Owen Quine is gruesomely murdered after writing a sensational book that spills dirty secrets on pretty much everyone in London's publishing industry. And then there's the cast of intriguing suspects, with mysterious backstories and motives to be exposed.
Note that "faithful secretary" is an absurdly reductive description for Robin; it's like calling Hermione Granger a "faithful friend". She's one of the few women who comes off well in this book – others are remarked upon with disdainful judgement that I'm not sure is part of Cormoran's character or Rowling's worldview. Either way, it's clear in this universe that there's the right kind of woman to be (Robin) and the wrong kind of woman to be (basically every other female character).
Not that it spoils the mystery. What does come close to spoiling it is the conclusion: No spoilers, but basically Strike deduces who Quine's murderer is about three-quarters of the way through – and the rest of the book is devoted to cunning schemes tracking down evidence to prove the killer's guilty, with his or her identity artfully hidden from the reader.
It's frustrating, and it feels like a cheat, a violation of the genre's rules. The detective in murder-mysteries is allowed to keep his suspicions from the reader – Agatha Christie did this basically all the time with Poirot, which is why he could sometimes seem so insufferable – but the reader needs access to all the information, all the clues, so that there's a sense we could have solved the crime if only we possessed the detective's genius and insight. That sense is missing in The Silkworm.
Previously: The Cuckoo's Calling, J.K. Rowling