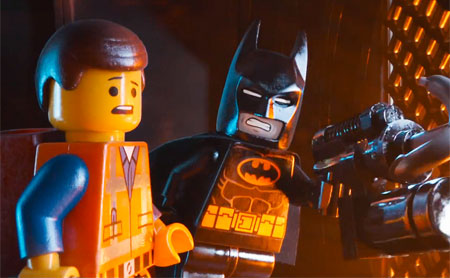 A Hollywood Lego movie sounds, in theory, like an unforgivably terrible idea. And yet Hollywood's The Lego Movie is far from unforgivably terrible. The film industry is shamelessly gross at spinning brands into movies, but here's at least one instance where that method has paid off.
Part of The Lego Movie's charm is surprise that it is actually good. No one expected this to be good when it was first announced, right? We all pictured Hollywood hacks being like, "Hey, it's Lego. Kids already like it. Let's tack on some shit-baked story about loser characters and go get drunk."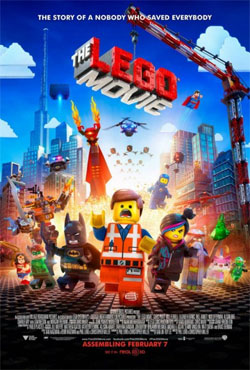 Instead, writer-directors Phil Lord and Christopher Miller* have had a good think about what makes playing with Lego (or "Legos", as some awful Americans would have it) so popular. You can do anything with plastic Danish bricks that are excruciating to tread on, and that anarchic, limitless fun is the foundation of their movie.
(*Who, it turns out, are also responsible for Cloudy With A Chance of Meatballs and 21 Jump Street, two movies also a lot better than anyone expected.)
The world of The Lego Movie brims with imagination. Opening scenes set in a massive city of Lego bricks have the kind of toy-rich detail that would have set my hair on fire if I'd watched this as a 10-year-old. (Happy to report that none of the actual 10-year-olds at the screening I attended spontaneously combusted.) The rest of the film jumps from world to world – Wild West, space, some sort of cuckoo fantasy land – and each is as glorious as the one before it.
The look of the whole thing is just terrific – the CGI has a stop-motion animation quirk reminiscent of those many charming Lego YouTube videos, or that old TV series no one but me seems to remember:
The plot itself is predictable and pretty stupid: something about a minifig everyman named Emmett (voiced by Chris Pratt) who stumbles across the "Piece of Resistance", a Lego brick that will save everyone from an evil plot masterminded by the conformity-loving, unsubtly named villain "Lord Business" (Will Ferrell).
(The irony of a massive global business demonising a businessman is not touched upon.)
Elizabeth Banks stars as Wyldstyle, the intentionally-ridiculously-named Strong Female Character and requisite love interest. (Chastely innocent love interest, FYI. This is a children's movie.) Lego Batman (Will Arnett) also features heavily, as do plenty of wildly cheesy jokes that kids seemed to get a big kick out of.
What's interesting about the plot is how meta it is – the climax almost plays like a kiddie version of a Charlie Kaufman film. Yes, there's the predictable "good triumphs over evil" finish, but the film concludes with a genuine, heartfelt, layered reflection of what makes Lego so great in the first place. Without giving the ending away, it's actually crazy. It's even crazier that it works as well as it does.