Thursday, April 5th, 2012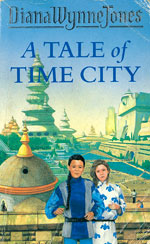 The stuff you like when you're 10 you don't usually like when you're an adult. Actually – this is super untrue. When I was 10 I liked The Simpsons and train sets and video games. I still like all those things!
But it is true that there are beloved relics of childhood best left in childhood. There's probably a multi-syllable German word for the "I enjoyed this?" emotion aroused when you attempt to sit through a once-loved now-tacky TV show/movie/book. (Maybe… like… kindheitschade? Thanks for that one, Google Translate.)
When I was 10 one of my favourite books was A Tale of Time City, by Diana Wynne Jones – the first thing of hers I ever read. The story is more or less what it says on the tin: it's about a city that exists outside history, and its mix of the legendary and the futuristic proved so appealing I must've read it five or six times in the years after I bought it. I dug that copy out of a box not long ago – that's its creased, scuffed cover up there – and decided to read it again.
So: does A Tale of Time City stand the test of time?
Yes! Largely because Jones was (RIP) incredible. Christ, what a brilliant and inventive writer. Her mind must've been a bubbling spinning miracle of alchemy: here it produced Vivian Smith, an English schoolgirl who's whisked out of London on the eve of World War II to live safely in the countryside.
Or not. Vivian swiftly is kidnapped by Jonathan and Sam, boys her age who take her to their home in the fantastic, glittering, aeon-spanning Time City. The boys are convinced Vivian is destined to play a vital role in rescuing the city from impending destruction, and she's swept up in their quest as she tries to figure out how she's going to get back home.
One of Jones's great talents was digging right inside her protagonists' heads, crafting characters who are vivid and true despite their fantastic backgrounds. In Time City, Jonathan is lordly in the exact way of entitled boys, Sam is grubby and hungry and loud, and Vivian approaches her predicament with an endearing mix of trepidation and gusto. Examining her with an adult eye, she emerges as a strong female character – and all the stronger for not being blessed with any special talents or powers. She really is just an ordinary person dropped into extraordinary circumstances, and she just keeps calm and carries on.
But that adult eye also exposes Time City's flaws. The time-hopping, jargon-heavy story is dazzlingly complex – admirably complex, proving young readers shouldn't be pandered to – and for the first two-thirds or so Jones does a top job holding her plot together. But it's that last third where it comes apart: all the elements of a satisfying conclusion are there, but there's a harried, sometimes slapdash touch to the way they're hashed together in the climax. The baddies are exposed, the goodies save Time City, and everything wraps up just like that.
Another of Jones's novels, Howl's Moving Castle, was adapted into a stunning animated film by Hayao Miyazaki and Studio Ghibli. A Tale of Time City is ripe for the same treatment – its extrahistorical setting is a pretty thrilling place of glass and stone. That Jones realises it so fully on the page is a testament to her skill.