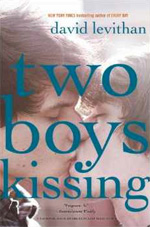 When I was about 14 or 15 – this was in 1998 – my English teacher took me aside and gave me a copy of Dance on My Grave to read. That teacher was openly gay (as openly as you can be as a teacher in a regional Australian high school in the '90s, anyway), the novel is about gay characters, and I would turn out be gay. Pretty obvious why that teacher lent me the book: "Hey kid – you are this. Learn to accept it."
But I refused to read it. A couple of days later I handed the book back to the teacher, insisting it interested me zero. This is called denial! I didn't want to learn to accept anything. I probably knew – though had never consciously admitted to myself – that I was gay. But I really didn't want to be.
Looking back, in the late '90s it felt like homosexuality was on its way to acceptance, but a long way off being accepted. The same-sex marriage debate was a thing crazies speculated about, not seriously discussed. Pop-culture offered a smattering of gay characters – asexual sidekicks, mostly, or one-offs*. Being gay was the stuff of Special Episodes or Problem Novels. Gay people were a thing you knew about but didn't look at directly. Being out in high school was unimaginable**.
(*Will and Grace didn't premiere and Jack didn't enter Dawson's Creek till a year or so after my English teacher gave me that book. I guess Jack was a pretty Big Deal for teenagers my age, even though he barely pecked at other boys and Kerr Smith was pretty outspoken about how gross he found the whole thing.)
(**Adult Me is frequently amused that almost all of Teenage Me's male friends turned out to be big ol' raging homos. If only we'd been out to each other instead of dancing around it!)
Which is why David Levithan's excellent book Two Boys Kissing, published in 2013, is so remarkable. He writes about teen life where being gay isn't a problem by default. It doesn't mark you as special. It's just… a thing. (One character is even a transgender boy, which Teenage Me would find especially remarkable. Transgender teens were not even on pop culture's radar when I was a Youth.)
Not that gay teenagers now exist in a utopian bubble of acceptance and tolerance. They don't, and Two Boys Kissing acknowledges the floods of homophobic ugliness that will never entirely recede, and that coming out will never be effortless. Almost all its young characters struggle with different facets of their homosexuality. But the world they exist in is a very different place from the one 15 or 20 years ago, and that's terrific.
(OH GOD HAS IT REALLY BEEN THAT LONG SINCE I WAS A TEENAGER OH GOD)
Two Boys Kissing balances several characters. Peter and Neil have been together a year (so in teenage terms they are an old married couple), but Neil isn't out out to his parents yet. Blue-haired Ryan and pink-haired Avery (the aforementioned transgender boy) meet at a "gay prom" and start that delightful-but-awkward dance of determining what's next. Self-loathing Cooper is disgusted and ashamed of his homosexuality – because his only experience with that world is through sleazy one-dimensional sex apps. And Tariq stands strong after a recent gay-bashing.
These boys orbit around Harry and Craig, a former couple-turned-best friends (with all the baggage that kind of relationship comes with) attempting to break the world record for longest kiss. That's a gruelling 32 hours, an event broadcast to the entire world, and whether or not they'll pull it off is terrifically suspenseful.
(Levithan was inspired by the real-life story of Matty Daley and Bobby Canciello, two college boys who set the world record for longest kiss in 2010 when they locked lips for 33 hours. Although Guinness says their record has since been broken by a heterosexual couple in Thailand.)
Levithan's writing is honest and beautiful, though he does toss in a pinch of that literary-ish tweeness which is a hallmark of "realistic" YA fiction. Tariq is obsessed with the poet Walt Whitman and leads friends in a recital of Whitman's work, while in another scene Neil and Peter spell out love messages in book titles. Obviously, yes, some teenagers really actually do stuff like this, but – to me, anyway – these kind of grandiose moments always seem contrived and sugary when they're flattened on to a page.
The boldest, most memorable part of Two Boys Kissing is that it's told from the point-of-view of the ghostly chorus of gay men who died amid the AIDS crisis of the '80s and '90s. It's a striking, odd narrative structure. "Odd" because it sometimes keeps the living characters at arm's length. But mostly because it filters the experience of being gay through such tragedy – like at any moment Two Boys Kissing might just become a tale of victims or the "descendants" of victims.
But it never does. Levithan – who in the acknowledgements explains  he came of age in the narrow window after the first AIDS crisis but before the advent of the internet – makes his ghosts vivid and important. By telling Two Boys Kissing from their perspective, he isn't saying  gay people now need to define themselves by AIDS. But he is saying we need to remember it, and its cost.

Which makes Two Boys Kissing seem like kind of a downer. It's not. The end of this book optimistic, powerfully hopeful, and filled with so much pride. I wish someone could have lent it to me when I was a kid, and that I could have put aside my teenage denial and cynicism and read it. I wish every gay teenager in the world could read and accept this book. I wish everyone, period, could read it and love it as much as I did.
Previously: Will Grayson, Will Grayson, John Green and David Levithan: Book review