Saturday, August 20th, 2011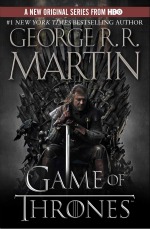 Confession: I never heard of George R.R. Martin nor his epic fantasy series A Song of Ice and Fire till HBO adapted the first instalment, A Game of Thrones, into the article-less TV series Game of Thrones. Which is amazing! I was hooked the moment [spoiler] pushed [spoiler] out the [spoiler], and officially loved it after [spoiler] had his [spoiler] [spoiler], then upgraded to love-it-like-a-crack-addict-whore-loves-crack when the season ended with [spoiler] [spoiler] [spoiler]!
Craving more, as junkie addict whores often do, I turned to Martin's books. By the way, you probably don't need to read A Game of Thrones if you've watched Game of Thrones and feel like you have a pretty good understanding of it. (HBO's official site is a big help here.) The TV show is super-faithful to the novel, so (assuming you're not one of these sissy-nutso-pansies who refuses to read the books for fear of spoiling the TV show) you ought to be able to leap into book two, A Clash of Kings, without much difficulty.
But reading A Game of Thrones is recommended if you plan to become a hardcore Westeros nut. (more…)