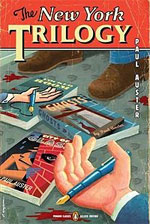 I don't remember how I first found out about Paul Auster's New York Trilogy – it just sort of stumbled onto my reading list. Which is appropriate, because this is one of the most mysterious and baffling books I ever read.
There's no easy way to describe the Trilogy, which is sort-of-but-not-really a spoof of detective novels overlaid with a navel-gazing exploration of identity and what fiction is and how it intersects with reality. Sort of. But not really. The first instalment, City of Glass, follows a writer who assumes the identity of a private detective named Paul Auster (yeah) and becomes obsessed with tracking a creepy client's even creepier father. Book two, Ghosts, is about another private eye, Blue, who also becomes obsessed with a case – watching a man called Black. And part three, The Locked Room, is about a writer who unwittingly takes over the life of a friend.
Reading the trilogy is kind of like watching Lost – for all that TV drama's (many, many) flaws, at its best it summoned up a sense of foreboding mystery, that something dark and deep and important lurked below its surface. The Trilogy evokes that same feeling of ominous, "What the fuck is going here?" wonder. As everyone in the world knows, Lost failed (terribly, horribly failed) at tying it all up into something at the end. But The New York Trilogy succeeds, and it probably succeeds because it doesn't attempt to boil everything down into a straight-forward explanation*. ("They're all in the afterlife!") It just presents a conclusion that is as oblique and utterly batshit as everything that came before it. You either buy it or you don't; I bought it.
*In fairness to Lost, though, the Trilogy doesn't have reams of characters who each need their own semblance of a farewell – which probably makes its opaque ending more palatable.