Tuesday, March 27th, 2012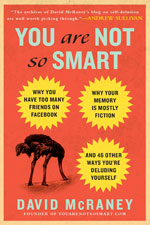 Now here's something terrifying: your most vivid memories are mostly made up, your everyday habits and preferences are little more than evolutionary hand-me-downs, and the "you" in your head is just the surface of an untamed, unknowable unconscious.
These are the lessons of You Are Not So Smart, a book based on a well-known blog that explores our cognitive biases (is the intelligent-sounding way of putting it) and self-delusions (is the accurate way of putting it).
And yet, this book isn't terrifying. It's fascinating, and more importantly, it's liberating. Yes, us humans procrastinate. Yes, we're easy targets for manipulation. Yes, we're worringly good at ignoring reality. But we're just born that way.
Each chapter presents us with a new mental foible, documented by author David McRaney in a clear, easy manner that connects everyday human behaviour with scientific studies. The short, easy-to-summarise-at-dinner-parties essays are ideal ebook material. After a while it reads less like a psychology textbook and more like a self-help book without the self-help: the traps built into our brains are unavoidable, McRaney argues, but an awareness of provokes a strange sense of humility. Your perspective on the world is not fixed and absolute but this strange, nebulous thing that sometimes needs to be questioned. When it's not, bad things can happen: you make crappy snap judgements, you prefer one brand over an identical one for no rational reason, and – worst case scenario – you walk robot-like down evil paths.
The central message of You Are Not So Smart isn't "Human consciousness is not a wonderful thing"; it's "Human consciousness is a wonderful thing, but…" We're loaded with so many mental shortcuts and biases it's incredible we manage to function at all. Ironically, if everyone read this book on why none of us are as smart as we think, we'd probably be a whole lot smarter.