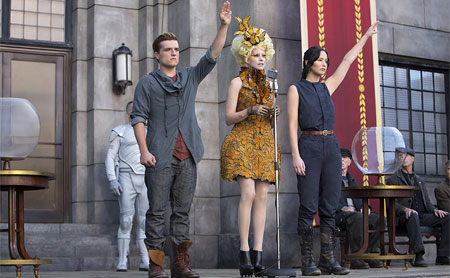 First things first: Jennifer Lawrence is amazing and brilliant (and my future best friend, so back off everyone please). So of course she is amazing and brilliant reprising her role as Katniss Everdeen in the Hunger Games sequel Catching Fire. Lawrence is so effortlessly charming and charismatic in real life it's easy to forget she is just as effortlessly charming and charismatic onscreen: Her Katniss is angry and strong but vulnerable, her line readings are surprising, and it's impossible to imagine anyone else playing this character. Catching Fire would not be as good as it is without her.
(Some spoilers lie ahead.)
But! Even putting Lawrence aside, this is a good movie – better than its predecessor. The stakes are higher, the plot is bleaker, and the horror of the world Katniss lives in isn't just confined to an arena where teenagers murder each other for sport.  Fresh from her victory in the 74th Hunger Games, Katniss is closely watched by President Snow (Donald Sutherland), the ruthless leader of the oppressive Capitol. He suspects – rightly – that she's growing into a symbol of hope for the downtrodden masses out in the districts. Pissed off that Katniss outfoxed him when she tricked her way out of killing Peeta (Josh Hutcherson) in her first games, Snow orders her to act as a tool for his regime.
Katniss, furious but terrified of what Snow will do to her loved ones if she acts out, obeys. But that hope she offers is too potent for even her to call back, so Snow invents a way to get rid of her: He'll serve up her and her fellow victors to compete in the 75th Hunger Games, a "Quarter Quell" that promises to be even more cruel and brutal than usual.
The resulting spectacle gets a lot of things right. The games don't even kick off until well into the film – after we're on board with what a desperate and horrible Katniss situation has been thrown into. When they begin, the action is brisk and thrilling and dangerous. Deadly fog! Deadly monkeys! Deadly lightning!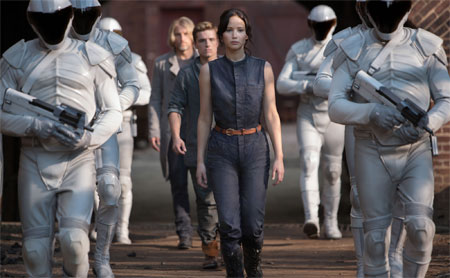 But Catching Fire inherits a lot of problems from both its cinema predecessor and the book it's based on. Like the first Hunger Games movie, the violence is blunted and brushed aside – characters are gruesomely dispatched without much of an impact – and Liam Hemsworth, as the third point of Katniss's love triangle, is still given barely anything to do. (I think he's unfairly criticised for his wooden presence in the Hunger Games movies, when it'd be a struggle for any actor to make much out of such a brief, nothing-y character.)
And, like the book, the film's ending is something of a letdown. The big twist feels unearned, the plot machinations muddled and never properly explained*, and the climactic cliffhanger – which in the book at least had a bit of heft – is pretty limp, especially coming so soon after the spectacular, fiery destruction of the Games' tropical arena.
(*I still have no idea exactly what Beetee, played by Jeffrey Wright, was planning to do with that loop of wire.)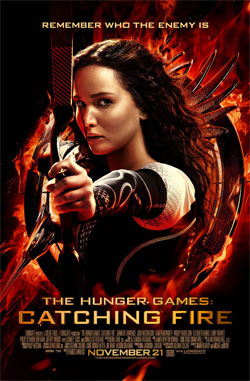 But everything that comes before it is so well executed (no pun intended, I swear). Lawrence deserves kudos for elevating the film well above its script, but she's helped out on the heavy lifting by returning supporting cast members Woody Harrelson, Elizabeth Banks and Stanley Tucci. (Banks's Capitol publicist Effie Trinkett has a lot going on behind her veneer of make-up, while Tucci deserves a specially created Oscar for Best Performance as a Campy Beady-Eyed TV Host.)
Of the new cast, Sam Claflin is a much better choice than I thought he'd be to play Games victor Finnick Odair – his smug, elfin face suits that character perfectly. (On the downside he is only shirtless in one scene. One! For only like 15 seconds! What even is the point!) And Jenna Malone is a standout as Johanna Mason, who's unafraid to declare how pissed off she is that she's been called back for another Games.
It's possible Catching Fire will be the last good Hunger Games movie: The third instalment, Mockingjay, is by far (by far) the weakest of the books, and it's impossible to say yet whether needlessly splitting it into two films will make it even worse. But, it's possible the movies will iron out the book's kinks into a clearer (and even grimmer) story than the novel. If they can pull that off, it's really going to be something to see.