Sunday, March 25th, 2012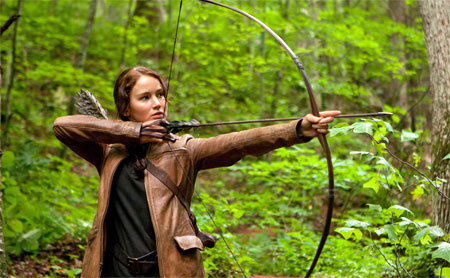 I read Suzanne Collins' novel The Hunger Games two years ago (way before it was cool, may I smugly point out), and since then I've loudly insisted the movie adaptation will be way better than the book. I enjoy being right!
But it's a pretty good book, with a simple and disturbing idea at its core. By now The Hunger Games (more accurately, The Hunger Games' marketing team) has penetrated pop culture deep enough that everyone knows the plot basics, but here they are again: the overlords of a cruel post-apocalyptic dystopia force teenage "tributes" to battle to the death in an annual spectacle called the Hunger Games.
It's a story that demands to be told visually, and it becomes much more powerful after its freed from the first-person-narrative trappings of Collins' book. It's counter-intuitive to say so but our heroine Katniss really is much more evocative, much more badass, when we only see her from the outside - which is largely down to a fuck-off-amazing performance by Jennifer Lawrence. She owns this film. Her Katniss is strong and brave and mature, and sympathetic and believable and feminine, and lots of other wonderful things.
The other great advantage of tossing aside the book's first-person perspective is that it allows director Gary Ross to take us behind the scenes of the Hunger Games – and even in this far-flung post-global-warming post-nuclear-apocalypse future, reality TV is still heavily manipulated. Watching Head Gamemaker Seneca (Wes Bentley – who seems to have been in a lot of movies lately? Maybe he got a new agent) and his team plot so casually to destroy the Tributes for the entertainment of the Capitol's extravagantly dressed residents makes the entire pageant even more sadistic.
The Hunger Games takes a while – at least an hour – to get to its actual Hunger Games. But the suspense and tension of that build-up is important in capturing what a monstrous event Katniss is participating in. The Games are horrible. But… also morbidly voyeuristic. I mean, c'mon: if you've read the book or seen the movie, you were super-impatient for the Games to get started so you could get to the killin', right? You are as awful as everyone in the Capitol (though maybe better dressed).
Much has been made – in Australia, at least – of Liam Hemsworth's role as Katniss's District 12 squeeze Gale. He's hardly in the film. The supporting cast's shining stars are Elizabeth Banks, who's grotesquely made-up and just terrific as Katniss's fussy chaperone Effie, who insists on good manners as she prepares her Tributes for a battle royale; and Woody Harrelson, playing drunkard-with-a-heart-of-gold Haymitch, a former Games winner tasked with guiding Katniss and her fellow District 12-er Peeta (Josh Hutcherson) to victory.
The pace sags in the lead-up to the bloody climax, and the plot relies too heavily on sloppy exposition from Games commentators Caesar and Claudius (Stanley Tucci, who's brilliant, FYI, and Toby Jones), who drop in every now and again to helpfully explain something to us dummies in the audience, then just eject out again.
But the bigger weakness is that The Hunger Games is too light - and I'm not talking about the teenagers-murdering-each-other violence, which is pretty skilfully handled. Plot-wise, this is an edgy film; thematically, it should have been edgier. The satire of media machinations needed more sting (sadly, Katniss's memorable makeover scene from the book lasts barely 10 seconds in the film), and the exploration of the politics of the Capitol and the Districts needed more depth. Perhaps they will in the inevitable sequel. "It's aimed at young adults" isn't a convincing-enough excuse.
Previously: Book review: The Hunger Games and Catching Fire, Suzanne Collins; Book review: Mockingjay, Suzanne Collins