Sunday, September 5th, 2010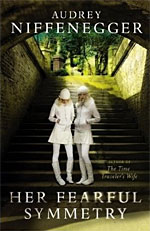 It's not often that I label a book "repellant", but Her Fearful Symmetry is a repellant book. (Mild spoilers ahead.)
Books don't need to be likeable for readers to derive enjoyment from them – the characters don't need appeal, and the plot doesn't need to go in a satisfying direction, but there's got to be something there for you to latch onto. And Symmetry does not have that something.
I liked Audrey Niffenegger's previous novel, The Time Traveller's Wife (though I enjoyed the time-travel knottiness of the plot more than the romance, and I can't tell you the number of arguments I've had1 with fans of the book who insist it's not sci-fi, even though it totally is), and I thought I was going to like Symmetry a lot more than I did. It starts off well: middle-aged Elspeth dies, leaving her London flat to her American nieces Julia and Valentina, the twin daughters of her own identical twin sister, Edie, whom she's been estranged from for 20 years following a mysterious falling out.
So Julia and Valentina leave the US for the UK, move into the flat and eventually meet their unusual neighbour Robert, Elpseth's grieving lover, who's writing a thesis on the next-door Highgate Cemetery. The opening chapters are slow but dreamy, promising a delicately unfolding plot… which never comes.
Halfway through the book steers off Whimsical and into Stupid, and it's possible to pinpoint the exact moment this happens: it's when Elspeth, who's been reincarnated as a ghost but confined to her flat, gains the strength to communicate with Robert and the twins. None of these characters are especially flabbergasted by this, and it's the first in a series of bung notes.
After that, they come thickly: Valentina hatches a profoundly boneheaded plan to escape the clutches of the gregarious Julia; Niffenegger takes disastrous shortcuts with her characterisations, dubbing Valentina "suicidal" and Elspeth discompassionate even though us readers hadn't previously seen any traces of those things; and the plotting becomes laboured and detached.
And the finale – blech. Really. Blech. It's  contrived, especially when it's revealed why Elspeth and Edie fell out, and worse, the resolution of the main storyline is so horribly off-putting. Like I said in the first paragraph: repellant.
It's not all bad. Julia and Valentina's upstairs neighbour is Martin, an obsessed-compulsive crossword compiler whose disease has alienated his wife, Marijke, who's fled to her native Amsterdam and left him alone in his flat which he refuses to leave. He's an eccentric, genuinely appealing character.
The other appealing character is Highgate Cemetery and London itself. Niffenegger worked as a tour guide in the cemetery while researching the book (and her devotion to the place is evident), and she nails what it's like to live in a historically, culturally rich place like London.
I must've had that argument… twice! [↩]