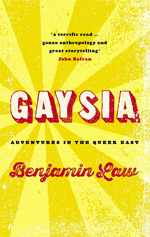 Pop culture has offered endless navel-gazing into what it is like to be a white gay man in Western countries. But what is it like to be an Asian gay man in Asian countries? It's a mystery!
At least until you read Benjamin Law's fine travelogue Gaysia. (Or unless you are an Asian gay man in Asia, in which case: just read this book anyway, OK.) An Australian child of Chinese migrants, Law ventures into Asia to learn how life for homos there is different (or the same) from life in his homeland, with each chapter exploring a different country or region.
Some chapters, while intriguing, are more or less what you'd expect: Law meets ladyboys in Thailand and explores sex tourism in Bali. Others reveal unexpected facets of Asia's gays: Particularly interesting is the chapter in Japan, where Law explores how gay celebrities are "permitted" to be out and proud – as long as they're men, sexless, and content with being entertainment for straight people.
Two chapters are particularly bleak. In Myanmar, Law explores the devastation wrought by HIV and AIDS. Even those who know how to get treatment – and that's a short list – are unlikely to get it. It's a terrible portrait of what happens when you mix poverty and oppression in one terrible soup.
The India chapter is bleak for a different reason. Law is positive about the country, which he visited after it overturned the section of its penal code outlawing homosexuality (laws dating back to the 1861, introduced during British rule). But in December 2013, India's Supreme Court over-overturned that decision, so homosexual acts are illegal again. It's a depressing, disappointing reminder that progress is not always permanent. Most of the anti-gay people Law interviews in India (and in Malaysia, too) are mostly motivated by their religious beliefs – unsurprisingly, and frustratingly.
Law doesn't dive into the historical complexities of the countries he visits, but nor does he make out like he's trying to paint a full picture of his destinations. Some of these places he visits, after all, have more than a billion people in them. Instead he meets people, talks to them, sketches a lasting impression of what life is like.
He's also the world's nicest travel companion. I relate to his buttoned-down brand of innocence – particularly when he politely-but-deftly deflects old leches in Bali then dares to (gasp!) go skinny-dipping. What could be termed his conservatism puts a compelling and often powerful spin on Gaysia: Law is a true observer without casting judgement, writing about his subjects with affection and respect.