Saturday, September 10th, 2011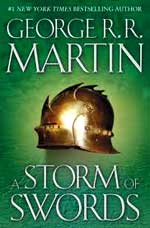 WOW OMG WTF. A Storm of Swords, the third entry in George R.R. Martin's fantasy epic A Song of Ice and Fire, is amazing. It's taut. It's brilliantly suspenseful. Especially… that scene! That one scene! And the ending! That cliffhanger!
You know what I'm talking about if you've read it, but if you haven't – go read it! (That is, read the first two books and then read this one, or watch the first season of the TV series Game of Thrones and then read the second book and then read this one. Obviously, don't read it standalone. That's stupid.) But don't spoil yourself! Because the shock and surprise of this thing is like whoa. I stayed up till 2am – on a school night! – reading the approach to and aftermath of that one scene, because how could you read that one scene then just go to sleep, and the following day at work I was torturously tired but kept sneaking extra pages when no one was looking. It's that kind of book.
Spoilers ahead for Sword Storm, Crow Feast and Dragon Dance. (Aren't those clever nicknames?!) (more…)