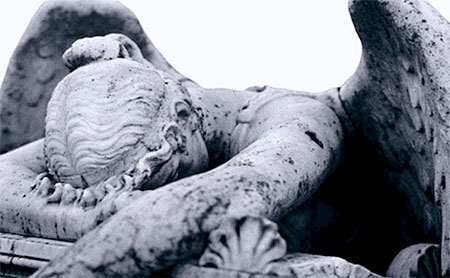 The Broken Wing has wooden slats nailed across its windows and a paint job that flakes from the walls in brittle scales. The only sign it's not abandoned is the rectangle of yellow light outlining the door.
It's where the angel hunters drink.
What a lonely, desperate job angel hunting is. The work is too repulsive for society's palate, its participants too ruthless for friendly bonding. They don't come to the Wing for conversation or company. There's no jovial gossip here. No swapping tricks of the trade. Miserable nights are wasted staring into the dregs at bottoms of mugs. They come here because… where else?
Angel conservationists — those pale papery types who hand out leaflets on street corners far away from the Wing — estimate there are fewer than a hundred angels left. Maybe much fewer. That's one reason hunters don't talk among themselves. You can't turn a profit selling a dead angel's feathers if your rivals snare them before you do.
Grimy silence hugs the Wing's interior. Trains rumble past across the street. The fan's blades whirr through thick smoke. The barman's name is Eddie Staunch and he's the offspring of a side of ham and a row of knuckles. You never have to tell Eddie what you want to drink. He always knows.
The Wing's door croaks open. No one looks up. It's always just some loser hunched in the doorway, fresh off another failure.
But this time…
Even Eddie Staunch puts down the glass he's wiping. … →