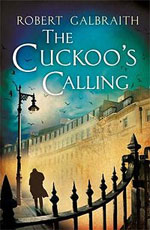 Really I guess that title should be "The Cuckoo's Calling, by Robert Galbraith", except we all know how that whole attempted pseudonym thing work out, so I'll just stick with "J.K. Rowling".
There's been talk of Rowling penning a crime novel for years, since even before she wrote those little-known books about that magic kid whose name escapes me. It turns out she's as deft at detectives as she is at wizards and witches: Rowling's prose is rarely that remarkable, but her stories are always captivating, hard to step away from.
Cuckoo's Calling starts with the suicide of supermodel Lula Landry, who leaps from the balcony of her London penthouse on a snowy, silent night. The rabid British press feasts on her death for a while, till she's swept aside into the heap of forgotten celebrity carcasses. That's when Lula's adopted brother John approaches private detective Cormoran Strike, convinced Lula was murdered. Strike starts poking around in the case, and – what do you know – finds that the circumstances of Lula's death are darker and more complicated than they seem.
I don't know how Rowling does it, but she's terrific at constructing fictional worlds that are believable and organic. Her mythologies never feel forced. Strike's London is as alive as Hogwarts, rich with secrets and shadows and intriguing characters – especially Lula, who's vividly realised even though she never speaks and dies on pretty much the first page, but especially Strike, a wounded war veteran struggling to hold his personal and professional lives together. He's such a big, striking (no pun intended) character I wouldn't be surprised if he's been knocking around in Rowling's head for almost as long as Harry Potter has.
Like all good detective fiction, Rowling throws out scores of seemingly innocent details. If you've played the crime game before you know most of them are red herrings, but a tantalising few are clues to the identity of Lula's killer/s. The conclusion is satisfying and melodramatic and expertly tied up, but it's still disappointing to come to the end and have the mystery all laid out for you – because it means your time spent mulling over those clues is over.
Previously: The Casual Vacancy, J.K. Rowling