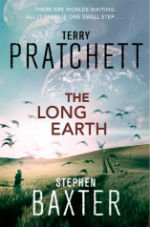 One day, humanity makes a stunning discovery: There are parallel universes neighbouring ours, stacked next to each other, stretching out to infinity, each one holding an Earth that is more or less identical to ours. Humans can step out of this world and into the next almost at will. Overnight, society is transformed by this new "Long Earth".
The Long Earth and its sequel The Long War are structured entirely on that premise – and what a premise it is. It's simple, with the kind of deceptive simplicity that cracks your skull open and makes your imagination blaze. Authors Terry Pratchett and Stephen Baxter's imaginations are incandescent: Both books in this series are bursting with digressions and musings and speculation about the big and small effects that the Long Earth would have on humanity.
The premise is so huge, so ambitious, that it's almost a struggle to build anything as closed as a plot around it. Long Earth is structured around Joshua Valiente, a natural "stepper" – unlike almost every other person, he doesn't need a special device to hop from one Earth to the next – who has explored more of the Long Earth than most. He's recruited on an expedition to explore the vast extent of the Long Earth by an eccentric supercomputer known as Lobsang, and the pair turns up some of the Long Earth's mysteries as they traverse it in an airship*.
(*Remember the golden rule: Pretty much anything with airships in it is, by default, cool.)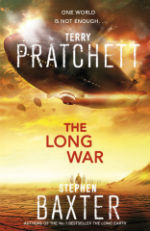 In Long War, which picks up several years after Long Earth, the weakness in the story become even clearer. The characters are mostly a benign lot (if you've read a lot of Pratchett's stuff many of them will feel familiar to you) and none of their individual stories are especially interesting or surprising. Various threads follow the tensions between humans and other intelligent species residing in the Long Earth, a Chinese expedition into far-flung worlds, and Lobsang's continued meddling. But there's never a sense that everything won't work out OK, and eventually, everything does.
But it's testament to the strength of that remarkable central idea that the series is never boring. Pratchett and Baxter wander off on side quests exploring the social and economic effects of infinite Earths, which are often so intriguing it's sometimes it's disappointing to be gently steered back to the main plot.