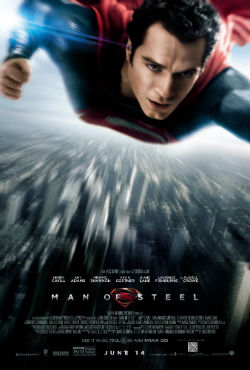 Here is an epic poem I wrote about Man of Steel's leading man Henry Cavill:
O, Henry, you are so handsome…
That's as much as I have so far but I imagine the rest will be 15,000 words or so devoted to his face/thighs/pecs/etc etc, so keep an eye out for it.
The last Superman movie was 2006's Superman Returns, which… is not so bad, actually, even though pop culture seems to remember it as a total dud. Its problem, probably, is that it feels like it's from another, older era of smaller, quieter, more thoughtful blockbusters – not so surprising, since its director Bryan Singer made it as a sort of half-sequel to 1980's Superman II. Too bad for Singer that that's not enough for us modern audiences, who demand awe-inspiring epic scale in our blockbusters.
Man of Steel delivers epic scale.
This is a big movie, right from the space opera opening scenes that depict the collapse of Superman's home planet Krypton. From exploding planets it's not much of a leap to exploding towns and then whole exploding cities. Man of Steel weaves in emotion-heavy flashbacks to Clark Kent's youth – some of them surprisingly touching – but it's never long till someone is getting punched through a building or firing machine guns at invincible bad guys or disappearing into a ball of fire.
It's pretty awesome.
But the movie is so big it actually gets in its own way, like Supes tripping on his cape. It raises big questions – what happens to world politics if a guy like Superman actually exists? Is "Christopher Nolan realism" a thing that even works for a character like Superman? What happens when an alien species makes first contact? Are god-like powers as much a burden as they are a blessing? – but the answers are obscured by all those huge explosions and collapsing buildings. There's the occasional sense of wishing you could look around them (or just use your X-ray vision to see through them), to the smarter and more complex movie you glimpse behind.
This is most obvious in the spectacular, problematic final third. (Some slight spoilers follow.) From a storytelling perspective, it's a terrific climax. On the other hand, huge swathes of Metropolis are reduced to rubble in Superman's showdown with General Zod. The scale of that destruction is… worrying. Watching it arouses actual anxiety. You can't see skyscrapers topple onto fleeing citizens who disappear into billowing clouds of debris and not think of September 11. And then… the battle is over. Supes smiles again. The Daily Planet's employees are back at work. The aftermath of levelling half of a Manhattan stand-in is never explored. The ending is huge, but it's empty, and in the end it sort of adds up to… nothing.
This is troubling, and it's a shame, and I think it keeps Man of Steel from achieving that this-is-all-very-important sensibility of the recent Batman trilogy (whose director Christopher Nolan was a producer on this movie). Batman Begins and its sequels didn't make their impact on pop culture just because they were gritty*, they made them because they asked big questions then went some way to answering them, even if the answers were confusing and complicated if you thought about them too hard. Man of Steel is big and entertaining and stunning, but not smart**. But – shrug. I still liked it a lot. Maybe there's the sequels for that kind of stuff.
(*In its favour, Man of Steel doesn't force grit on the Man of Steel just for the sake of making him gritty. He isn't given, like, a drinking problem or some other dumb flaw. He's a straight-up, through-and-through good guy – which I guess you can argue makes for a pretty boring character, though I don't think he is here. Steel plays the silliest bits of Superman lore – the cape, the enemy named "Zod", the glasses-are-a-foolproof-disguise  – mostly straight, which works for this movie's tone, though I did kinda like how Singer had a bit of fun with them in Superman Returns.)
(**Maybe this is a Zack Snyder thing. His direction of Man of Steel follows the strong-on-visuals light-on-actual-substance pattern in his other movies, and I say that as one of the apparently few people who liked his adaptation of Watchmen.)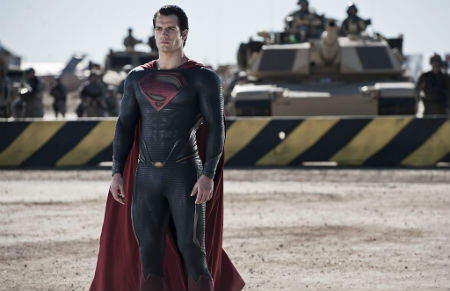 Henry Cavill is a good Superman, and not (only) because of the aforementioned super-handsomeness – he fits that all-American* corn-fed boy-next-door superhero thing, embodying more literal and metaphorical muscle than Brandon Routh's more introspective (and sometimes kind of drippy) take. Amy Adams – who I like a lot, but had my doubts about when I learned she'd been cast – is an unexpectedly good, feisty Lois Lane. Russell Crowe is a lot (like a lot) better suited to the paternal gruffness of Clark's Kryptonian dad Jor-El than he was to the walrus-ish singing of Les Mis, and Kevin Costner has a nice gravitas as Clark's adopted dad Jonathan. As Zod, Michael is an early frontrunner to win next year's Oscar for Best Crazy Eyes.
(*Which is especially strange given that Cavill is English. And so was Batman's Christian Bale. Someone could write a whole thesis on the implications of Englishmen starring as quintessentially American heroes, probably.)
Look, Man of Steel is no Batman Begins – I left that movie with a profoundly new perspective on the Caped Crusader, whereas Steel didn't give me any impression of Superman I didn't already kind of have. Still, it's a way better reboot than something like last year's Amazing Spider-Man, which was really merely a remake. I'm not really that interested in where big-screen Spidey goes next, but I am interested in what Superman will be taken when his sequel drops in a year or two.