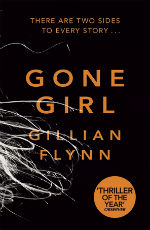 Gone Girl is one of those everyone-is-talking-about-this-so-I-guess-I'll-check-it-out-too books. Happily, it's not one of those crazy-popular books you read with one hand turning the pages and the other batting away the unholy stench of shit reeking from the pages. This is a bestselling thriller that is actually pretty thrilling! Which doesn't mean it doesn't have its problems.
Spoilers (of the utterly-plot-ruining-so-watch-out variety) follow.
This much you know from the blurb on the back of the book: Golden boy Nick Dunne meets golden girl Amy Elliott. They hit it off. They wed. Then everyone goes sour: Nick loses his sweet job as an entertainment writer for an Entertainment Weekly-type magazine*, Amy's trust fund is wiped out by her flaky parents' financial mismanagement, the two move back to Nick's decaying-middle-American-shithole hometown, their marriage starts to break down. On their fifth wedding anniversary, Amy disappears from their home. The crime scene suggests a violent struggle. The police immediately suspect Nick – the husband is always guilty, right? – except we know he didn't do it. So what has happened to Amy?
(*Author Gillian Flynn was also formerly an entertainment writer for Entertainment Weekly. Which is probably just a crazy coincidence.)
Last chance to back out if you don't want any spoilers. And this really is one of those stories you should experience spoiler free.
Halfway through her novel, Flynn completely upends it. Amy hasn't been killed by some violent, mysterious man. She's staged her disappearance as an Old Testament God-level revenge against Nick for cheating on her with a younger women. On the one hand, it's fiendishly clever: Gone Girl immediately becomes something much more compelling, much fresher than the "missing woman" story we've been led to believe it is.
On the other hand… something about the twist flattens the story into two dimensions, and it's less compelling. Suddenly, Nick's increasingly misogynist feelings towards Amy (and our increasingly complicated feelings towards him) are brushed aside – hey, the reason he hates his wife is because she really is an actual literal psychopath. Hey, of course Nick is the good guy again, because even though he cheated on Amy, she really is lying, manipulative, hate-filled* and through-and-through horrible. Which is kind of a shame, because in its first half the book frequently cuts to the heart of what it is to be in a relationship with devastating clarity, the kind of clarity usually reserved for those times when you wake up at 3 a.m. and remember your death is coldly inevitable, only to turn Nick and Amy's marriage into more conventional cat-and-mouse spy-versus-spy stuff.
(*Seriously, there is a lot of woman-on-woman use of the C-word in here.)
That said, Flynn mostly succeeds in keeping the momentum up in the second half of the book, as Nick starts plotting to get Amy back and Amy starts plotting to outmanoeuvre Nick's plots and Nick starts plotting to outmanoeuvre Amy's plots to outmanoeuvre Nick's plots… and so on and so on. It whips up and up and around itself until it all finally collapses in the last few ludicrous pages, as the plot fizzles out with a whimper – Amy (who's also an actual literal murderer by this point in addition to being an actual literal psychopath) manipulates Nick into taking her back and falls pregnant with his artificially inseminated kid, and Nick accepts because he relishes her mindgames and wants to protect his unborn kid… or something.
I bet most people will finish Gone Girl with a "Seriously – WTF was that dumb ending" expression. But it's a pretty entertaining ride getting to said dumb ending. Any writer who can get you to keep turning the page even as your scoffing eyebrow creeps ever higher up your forehead has pulled off a pretty good trick.