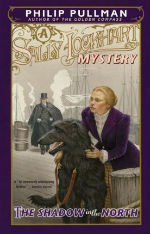 I read The Ruby in the Smoke at Christmas – and immediately regretted not having the rest of the Sally Lockhart Mysteries at hand. (Apparently they're only available as ebooks in Spanish, and no habla espanol or whatever)  They're those kinds of books: Once you're in the universe, you want to stay in it.
The second instalment in the series, The Shadow in the North, picks up Sally's story several years after the end of Ruby. She's a successful financial consultant with a taste for mystery, which flares up  when a client of hers loses all of her money to a ruined company whose misfortunes seem to have been predicted by a spiritualist. Dun dun!
Pullman built a sinister, grubby Victorian London in Ruby, and it's an even darker place in Shadow. There are deaths – of major characters, who you'd expect to survive in any other series because most writers wouldn't have to balls to kill off them off. The only "safe" character is Sally, and even she's only safe from death. She's a plucky, smart, ballsy, admirable heroine, so the risk of her falling victim to some worse-than-death fate that would crush her spirit is a big one.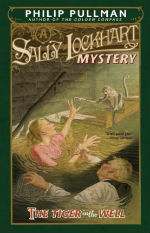 The third book, The Tiger in the Well, is about such a fate. While the first two books are about Sally rising above the sexist goons of the time, in Tiger those goons are actively seeking to crush her. A powerful and mysterious force conspires to take from Sally everything that she's built up – her business, her home, her family – but not by killing her. Her shadowy enemy is taking away everything by twisting the law, which didn't give much of  shit about women back then, especially unmarried ones with children.
There's an explicit theme of men hoarding power over women and using it to oppress them. "The real Big Bad is institutionalised sexism," etc etc" Of course not all the penis-havers are nefarious tosspots. The male heroes – Jim, Sally's closest friend; Fred, her on-off paramour; Daniel, a political journalist she encounters – revel in her strength and the opportunity to share power with her. Shadow and especially Tiger are explicitly feminist books. Their plots are deliberately pulpy, riffing on penny dreadfuls, but the themes of social justice – not just for women, but for immigrants, Jews, the poor – lend their storylines a real heft.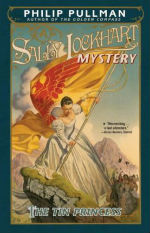 The Tin Princess departs from the first three books (if the differently arranged title didn't clue you in). For starters, Sally hardly features at all. The focus is on Jim; Adelaide, a street urchin last seen in Ruby; and Becky, who's recruited as Adelaide's maid after she suddenly marries the prince of the tiny European kingdom Razkavia and becomes its princess.
The trio sets out for Razkavia, wedged between Germany and what would become the Czech Republic. Political intrigue follows. Scandal follows. Regicide follows. Razkavia is just an important a character as London was in the first three books, and it's beautifully realised: Pullman's descriptions of it are so vivid, his history of it so rich, that a couple times I almost looked up "Razkavia" on Wikipedia to double-check it never actually existed. Too bad, then, that this is one of those books let down by its ending: The story is exciting and thrilling until the last couple of chapters, where it all kind of just peters out.
Previously: The Ruby in the Smoke, Philip Pullman