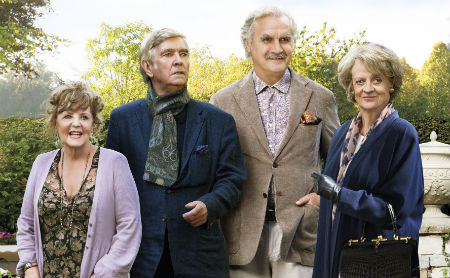 So before I saw Quartet I kind of had this idea it'd be The Best Exotic Marigold Hotel 2: Marigold Returns – a pleasant but blandly conventional, mostly forgettable comedy starring Maggie Smith that you won't really enjoy unless you've drawn up a will and started paying attention to funeral insurance commercials on afternoon TV.
But: My impression of Quartet was wrong! It is not bland. It is lovely. Like Marigold was ho-hum maybe because it was a film about old people whose problems didn't really extend beyond being old (same goes for gay films that navel-gaze at Homosexual Themes, as if they're all that preoccupy homosexuals). Whereas Quartet is a film about old people – cute, charming old people – whose problems are timeless.
It's set in a retirement home (which, OK, not so timeless), but not one that's all grim loneliness and dusty blankets and fogies staking themselves good spots at the staring window. Beecham House is the most awesome retirement home ever! It's a posh English mansion and the residents are jolly good former musician sorts and the staff are tasty young bits of crumpet. You want to be in this retirement home when you're decrepit.
The residents include Reg, Wilf and Cissy (Tom Courtenay, Billy Connolly and Pauline Collins), retired members of an operatic quartet renowned for their rendition of a Verdi classic. Smith is Jean, the fourth member of their quartet, who moves into Beecham House. Hey, say Wilf and Cissy, how about the quartet reunites to perform that song everyone likes? Except Jean refuses to perform because she's afraid of embarrassing herself because she's old, and Reg refuses to perform with Jean because they used to be married and she cheated on him. Will they put aside their arguments and put on a show that will raise enough money to save the cash-strapped Beecham House?
Yes. Of course they do. Obviously.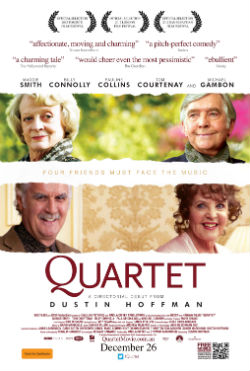 Quartet is not trying knock you down with any weighty themes, or seed an aggressive fear of ageing in your heart. (If you want an aggressive fear of ageing seeded in your heart, watch Amour. Oof.) It just wants to let you know: Hey, isn't an appreciation of art a nice thing to have, at any age? And isn't it kind of nice to grow old if you're surrounded by loved ones and doing the things you love?
The "Growing old does not mean abandoning your passions" theme is doubled up by Dustin Hoffman, who directed Quartet. It's the first feature he's directed and he's 75! Plus many supporting roles are played by actual former musicians who are now very elderly. So watching this film makes me feel like becoming ancient might not be so bad, as long as I end up in a luxurious retirement mansion surrounded by brilliant peers where no one ever seems to wet themselves by accident (fingers crossed).
Also: Michael Gambon is in this too, basically playing the fruity old queer version of Dumbledore. Like in half his scenes I swear he's just recycling his old Dumbledore costumes. It's pretty fantastic. Also: yes I'm aware that Dumbledore is technically the fruity old queer version of Dumbledore. Shut up then look at this adorable picture: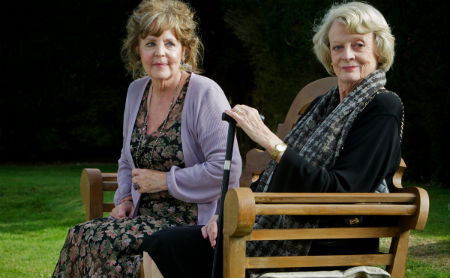 Aww. And now watch these wise words about Maggie Smith: