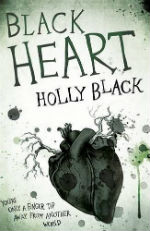 Buried in the acknowledgements in the back of Black Heart is what might be the key to Holly Black's success. She writes (slight paraphrasing): "I have to thank my husband, who once again let me read the whole book to him out loud."
That's right: having a husband is the key to a woman's success. Just kidding! I mean the bit about reading the whole book out loud. That's kind of neat, right? The only people who read whole books out loud are the people who get paid to narrate audiobooks. But I think it explains why The Curse Workers trilogy, which concludes with Black Heart (at least I assume it's a trilogy – trilogies are how YA series are mostly pitched and sold. So maybe there'll be a fourth book. I have no idea), has such a distinctive, polished, convincing voice. Because Black read the whole book aloud, to someone else. It really pays off.
So. In this series magic is real, and most people with magic powers are criminals – mobsters, con men, killers. Cassel Sharpe is the youngest member of a family of "worker" lowlifes (worker is Black's term for anyone magic) who's been roped into using his rare magic ability, the power to transform anything into basically anything else, for the FBI. And of course it turns out the feds are as ruthless and untrustworthy as the worker mafia Cassel is also tied up with. "Between a rock and a hard place" comes somewhere close to describing this kid's dilemma.
Cassel, bless his melodramatic moody teenage heart, is dealing with some heavy stuff. But The Curse Workers books are not hard hitters. That is not meant as a bad thing! This series is a noir thriller dressed up as young-adult fantasy: it's sexy. It's gritty. It's readable. Please, television executives who are totally likely to pay attention to all the things I say: make a TV series about these books. It'd be Veronica Mars with magic. And I have to wrap this up now because I'm having heart palpitations at how awesome that would be.
Previously: White Cat, Holly Black/Red Glove, Holly Black