Argo: Movie review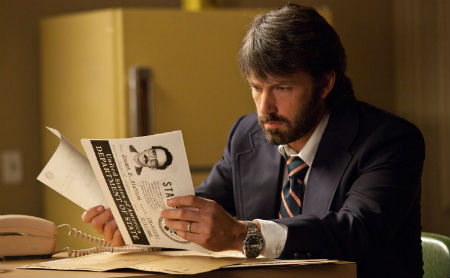 (Fact: The weekend after watching Argo I watched Fargo! I would've kept going but all the other -argo movies looked kind of bad.)
Argo's trailer makes it look kind of like an Ocean's 11-ish caper: Zany CIA agents pretend to be zany Hollywood filmmakers to sneak into Iran and free some zany hostages! Wacky hijinks ensue!
Actually it's a solid political story, based on the Iranian hostage crisis of the late 1970s and early '80s. You can Wikipedia the details, but basically: When the American embassy in Tehran was overrun with Iranian protesters, a small group of Americans secretly escaped and, unknown to Iranian authorities, housed themselves in the Canadian embassy. Seeking to rescue them, the CIA sent in "exfiltration" specialist Tony Mendez (Ben Affleck) to pose as the producer of a tacky Hollywood's sci-fi film, part of a (zany!) scheme to sneak the "Houseguests" out.
I only had hazy memories of the hostage crisis, gleaned from high-school history classes. But even if you already know how the story ends, watching Mendez and the Houseguests barely escape from Iran (history! Not a spoiler!), with revolutionaries on their heels, is tense business. And while the film's focus is squarely on the Americans – the Iranians are mostly straight-up bad guys – it does a pretty decent job of explaining how Iran got so screwed up/over.
Argo's biggest problem: flat characters. I'll forgive that in Affleck's case, because he's playing a serious CIA-type. But if you have a flat leading man you need a vibrant supporting cast, and Victor Garber (as a Canadian ambassador), Tate Donovan (one of the Houseguests), Bryan Cranston (some CIA guy) and the rest… they're just kind of there. The only Houseguest with anything resembling personality is the one played by Clea DuVall, who's actually allowed some sparse characterisation. John Goodman and Alan Arkin, playing flamboyant Hollywood producers, lift the story whenever they appear.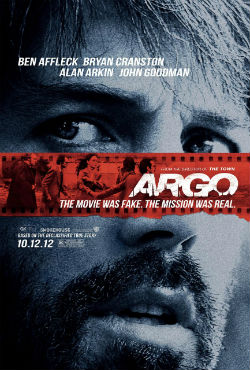 Affleck shrugged off that "doltish pretty boy tabloid fodder" thing a while back (yes, I know he got his break co-writing, starring in and winning as Oscar for Good Will Hunting, but for a long time – mostly during what I'll politely term his "Lopez Years" – there were rumours about Matt Damon having done most of the heavy lifting on that one), and he does a solid job directing Argo. The opening scene depicting the invasion of the U.S. embassy is terrifically matter-of-fact, the plot clips along nicely, and the aforementioned escape scenes are great.
But what happens after those escape scene – boy, schmaltzy. Once the Houseguests are safely rescued, there's soaring music (clashing terribly against the rest of the brown '70s dagginess) and nicely-tied-up happy endings for all – even the Iranian housekeeper at the Canadian embassy who never let slip about the Americans hiding there. She manages to slip into Iraq. Where they all lived happily ever after!
So Argo really should have ended about 10 or 15 minutes before it actually does. Despite that: Argo see it. Then Argo fuck yourself.
Tags: Alan Arkin, Argo, Ben Affleck, Bryan Cranston, Clea DuVall, Iran, Iranian hostage crisis, John Goodman, politics, science-fiction, Tate Donovan, thriller, Victor Garber