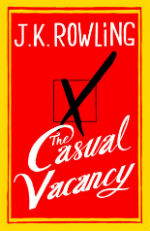 It's been said before, but it's worth saying again to play it safe: The Casual Vacancy is not a book for children. Do not gift this book to a young Harry Potter fan. Not even a charmingly precocious seems-wise-beyond-her-years one. There's a C-bomb about five pages in. When J.K. Rowling said she intended to write a book for adults, she was not messing around.
Rowling also intended to write a book that isn't fantasy, and Vacancy's story is as muggle as they come: a council election. The residents of Pagford, a stock-standard quaint English town, must elect a new member to their parish council when Barry Fairbrother dies suddenly. Barry had been an advocate for a nearby council estate called The Fields – "council estate" being the polite name for "drug-addled rathole" – and his successor will determine the estate's future.
The good guys and the bad guys are easy to identify, but they're not heroes and villains. They're marked not by their virtues or their flaws but I guess by their regard for humanity: for all their failings, the good guys understand that other people are all people, that everyone has an internal voice and hopes and roots; the bad guys don't look beyond shallow stereotypes, beyond throwing people in or out of particular cliques, beyond their own problems.
Not everyone rates her prose, but Rowling is brilliant at creating these full, organic worlds. It's an underrated talent of hers – it's why the worlds created by her Potter imitators often feel so hollow – and her imagination extends not just to these huge wild ideas but to the small little ones too. The world Rowling crafts in Vacancy is a real one, brimming with detail and too-familiar human pettiness.
It's also an unexpectedly bleak world. If Harry Potter and the Deathly Hallows tricked you into thinking that Rowling can't resist a sappy ending, think again. It becomes clear pretty early on in Vacancy that not everything will be resolved with a nice bow – it's just not that kind of book – but it's a shock how brutal (and, to be honest, melodramatic) the final chapters are. Rowling, though a clear advocate for social equality and fairness, is ultimately a realistic, or a cynic: the cruel, hard-hearted currents of human nature are too powerful to be dammed. Society's worst problems can't be fixed. It fits that Barry Fairbrother, maybe the only effortlessly moral and good man in Pagford, dies in the first couple of pages. It's not Voldemort-style evil that's undoing the world. It's just indifference to other people.