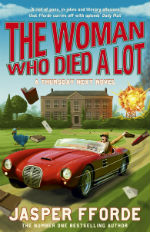 I've said this before, but I'll say it again, and only partly because I'm a lazy hack: Jasper Fforde is one of my all-time favourite writers of all time. In my fantasy he wakes up in the morning and spends his sun-dappled days filling a tattered notebook with weird and brilliant ideas, which he's comes up with because of possible mild insanity.
Fforde's newest weird and brilliant and mildly insane outing is The Woman Who Died a Lot, which picks up the story of Thursday Next. It's been a while since Fforde ffans saw his kicking-ass-and-taking-names heroine (she was MIA in the previous instalment. Which was narrated instead by her "fictional" counterpart. Which makes perfect sense if you've read the whole series. Honest), but she's back, badly injured by past misadventures – hobbling around on a walking stick, addicted to painkillers, and forced into semiretirement.
Some of Fforde's mad-scientist inventions for this book: God is real, and determined to wipe out Thursday's hometown Swindon by the end of the week unless her genius daughter Tuesday perfects an Anti-Smote Shield; Thursday's son Friday is destined to commit a murder that will earn him a lifetime prison sentence, unless Thursday can find a way to avert the future; the all-powerful, all-jerks Goliath Corporation is attempting to switch out the real Thursday with synthetic robot clones. Oh, and one of Thursday's powerful former nemeses (there's a lot of them) has seemingly returned.
Fforde's endings are sometimes hastily, unsatisfyingly tied together. But that's not a problem here! Despite all of Died a Lot's spinning storylines the climax is beautifully balanced – especially the resolution of the troubling mindworm Thursday's been carrying around for the last couple books, which makes her believe she has a third child who doesn't really exist. (Again: makes perfect sense if you've read the whole series.)
Thursday is a great leading lady. Tough and smart and loving and awesome. And the set-up for her next adventure smells terrific. Hurry up and write that, Fforde.
Previously: Book review: One of Our Thursdays is Missing, Jasper Fforde