Movie review: Total Recall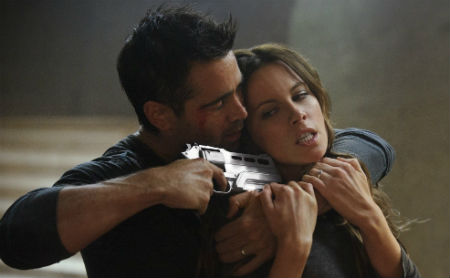 The number one reason you go see Total Recall is to check out the woman with the three boobs. So of course I missed the woman with the three boobs because I ducked out for a toilet break during her bit. Sorry I missed your moment of glory, three-boobed woman.
Not that I can be blamed for ducking out. Most movies, the toilet break is something you avoid, or at least try to time right so you don't miss anything. Total Recall, it doesn't matter when or how many toilet breaks you take. You're not going to miss anything (aside from the aforementioned woman with three boobs). It's impossible to overlook any important plot points. There aren't any.
So the set-up (and really this film is just set-up) is this: Colin Farrell plays factory worker Douglas Quaid, who inhabits a not-too-distant dystopian future where most of Earth has been destroyed by chemical warfare. There's hardly any space for the surviving humans to live, though Douglas and his wife Lori (Kate Beckinsale, who I've only recently learned is not actually called Kate Beckinsdale. I've been calling her Krandle!) still have a pretty massive apartment.
Anyway. Douglas is totally bored with a hot wife and a job that affords him plenty of leisure time and a nice house. So he visits Rekall, which is basically a whorehouse where your memories get fucked instead of… you know. But! When the goons at Rekall go to plant some awesome fake memories in Douglas's head, it backfires because it turns out all his memories are already false. Gosh! Douglas Quaid doesn't exist: He's actually a super-spy called Carl Hauser. Lori isn't really his wife: she's also a spy, who's been assigned to keep an eye on him.
I haven't seen the original 1990 Total Recall with Arnold Schwarzenegger. But I assume (thanks, Wikipedia) that it was kind of relevant that Quaid/Hauser visited a place that offered him false memories – because it raises questions about whether his discovery that he's a spy is actually real, or just another illusion. There are no such dilemmas in 2012′s Total Recall, which never seriously suggests that Colin Farrell's character is stuck in an artificial memory. It's barely relevant that he even goes to Rekall. Because you wouldn't want to trouble bonehead modern audiences with any kind of is-this-really-happening-or-not intellectual conundrum, right? (And, as I cynically suggested after I walked out of the cinema, if it turned out Quaid/Hauser was just dreaming the whole time, it makes it harder to sell the all-important potential sequel.)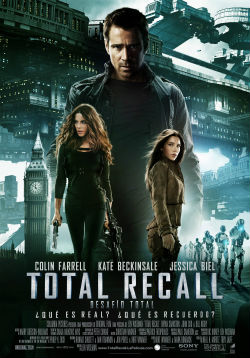 This lack of anything resembling nuance or intellect pervades the whole of Total Recall. Everything here is surface. If you think about just about any of its storylines or exposition even for a second, you're in danger of falling into scores of plot black holes. Like, Hauser's boss is some guy called Cohaagen (Bryan Cranston), the ruler of the United Federation of Britain, who's evil because he wants to build a robot army, or something, to take over another country called the Colony (aka Australia, LOL), or something? Because the UFB is enslaving the Colony? And that's bad? Or something? Instead of fleshing any of this out – which might give us even the tiniest inclination to care about what we're watching – Total Recall just bounces from action scene to action scene, occasionally tossing out half-assed explanations about whatever apparently happened in the preceding minutes.
(PS: It kind of bugs me that the movie is called Total Recall yet he goes to Rekall. Just like how it kind of bugs me that it's called True Blood but they drink Tru Blood. Pick and stick with a spelling, please.)
Farrell does a pretty great job… at being hot. Beckinsale also does a pretty great job… at being hot. Actually, that's unfair: They're both decent, in addition to lookin' fine. However. Their co-star Jessica Biel, who plays Melina, Hauser's spy partner/girlfriend/whatever? Well, she's also lookin' fine. But you could lift her entire character out the movie and it wouldn't make a lick of difference. So it's kind of hard to objectively judge Biel's performance, when all Melina does is stand around doling out exposition and generally being utterly useless. I didn't even know her name was Melina till I looked it up to write this. (Also: I waited the whole movie for there to be a pay-off explaining the decision to cast two female leads who look almost identical. There isn't one. Spoiler alert!)
So, in asking yourself whether you should go see Total Recall, here's what you're really asking: How badly do I want to see a woman with three boobs on a big screen for two seconds? If the answer is "Really, really badly," then I guess go check it out. And remember not to take a bathroom break during that bit.
Tags: Arnold Schwarzenegger, Colin Farrell, Jessica Biel, Kate Beckinsale, Len Wiseman, memory, remakes, science-fiction, Total Recall