Book review: Always You, Edina, V.G. Lee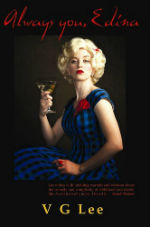 Last year I was pretty impressed by V.G. Lee's short story "Knitting for Beginners, 1960," a tale which featured in Paul Burston's anthology Boys and Girls. That story centred on a 10-year-old schoolgirl Bonnie's crush on the most popular girl in her class – nice, innocent, "aren't kids adorably naive" stuff. Well! Turns out "Knitting" was just a sliver of the grander story that unfolds in Lee's novel Always You, Edina. Which is a bit like eating a slice of cake then finding out you can stuff your face with the whole thing.
In Edina we first meet Bonnie as an adult, on one of her regular visits to a nursing home to see her (terrifically sharp-tongued) Gran. Bonnie seems reluctant to talk too much to Gran about her personal life, and her partner "Jay" (note that gender-ambiguous name), so instead their conversations tend to fall back on their family's difficult history.
Flashback to Bonnie's childhood in 1960s Birmingham (the same era "Knitting" is set): It's working class, but seems pleasantly average. Emphasis on "seems", because there's more going on in the background that Bonnie realises. Her much-adored father is suspiciously close to his vivacious, bottle-blond sister-in-law – the eponymous Edina, who Bonnie idolises. Their relationship will have twisted consequences, even if Bonnie – who's obsessed with her crush on popular girl Joanna and her rivalry with her cousin, Edina's daughter – doesn't comprehend what they'll be.
Lee has a knack for gluing a child's voice on to the page: Bonnie is both precocious and charmingly idiotic, insufferably convinced of her own importance. In other words, she's exactly like every other 10 year old; there's shades of Adrian Mole about her. She senses there's bigger things going on than the ones that directly affect her daily life – the love triangle, her own unusual sexuality – but she's too careless to be bothered by it. Which all contrasts nicely with the parts of the book set in the modern day (or at least, a day more modern than the 1960s). Grown-up Bonnie's life has turned out okay, but her relationship with her family seems strained, and she's not quite open about her sexuality.
Elements towards the end of the book are slapdash - notably when Gran awkwardly takes over the point of view to reveal some key plot points to Bonnie, and a soap opera twist when the identity of Bonnie's long-time partner is finally revealed.
But any of Always You, Edina's flaws are overcome by its warm, funny tone, and the way it throws a spotlight on often-overshadowed subjects. For starters, "mainstream" culture generally pays a lot less attention to lesbians than it does to gay men. And it tells very few stories of gay children (or, to split hairs a little, children who grow up into gay adults) that aren't weirdly sexualised.
(Also, I should mention: Lee very kindly sent me a free copy of Always You, Edina after she read my review of "Knitting for Beginners." I mention this partly as a disclaimer but mostly because I want to boast about how an author personally requested that I review her book.)
Previously: Book review: Boys and Girls, edited by Paul Burston
Tags: Always You Edina, Boys and Girls, homosexuality, lesbians, Paul Burston, V.G. Lee