Movie review: Dark Shadows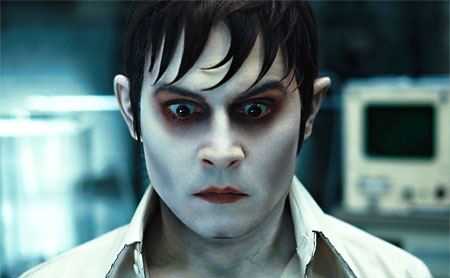 Very short review: Tim Burton's new film Dark Shadows is rubbish. "The term 'hot mess' was probably invented just to describe this film" rubbish.
Somewhat longer review: I feel like I'm pretty qualified to dub it rubbish. In the last couple months I've watched many many episodes of the original 1960s soap opera the film is based on, and I've watched the short-lived 1991 revival. (This makes me the second biggest Dark Shadows fan I know; the biggest fan I know is my friend Mat, who's watched more than 24 hours of the original series – which, no shit, is still only a tiny fraction of the whole thing. There is a lot of it.)
The '60s series is a tricky thing to pin down: it revolves around the Collins family, proprietors of a spooky old manor, and their servants, friends and enemies. Usual soap stuff. On the one hand, the show is shoddily made guff rife with laughable dialogue, cardboard characters, and plots that are somehow ludicrous and tedious. On the other hand, those things are what makes it so amazing. It's camp, but not knowingly "ha ha look how funny we are" camp. It's stupid, but endearingly so. And it's really, actually kind of twisted – characters get murdered and kidnapped and mind-fucked. It's a lot of fun!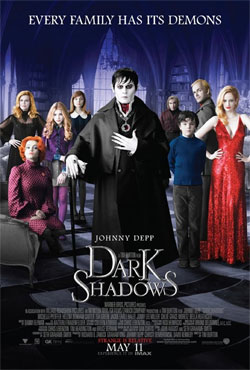 Dark Shadows was, apparently, a pop-culture phenomenon in its time – it really took off after the introduction of the Collins' vampire ancestor Barnabas (Jonathan Frid, RIP!), who ushered in an era of stupidly brilliant supernatural storylines. (Think Passions, in black-and-white.) It's weird hardly anyone nowadays has heard of the show! And it's a super-shame Tim Burton's mishmash is the first introduction most people will have to it.
If you've seen any of Burton's films in the last five years you know what to expect: first, Johnny Depp, who plays Barnabas, doing his Johnny-Depp-acts-kooky thing. Johnny Depp is good at acting kooky! But spaghetti tastes good, and nobody wants to eat it every night, right? Try something else, Depp! Second: Helena Bonham Carter… who is actually pretty great, so. Third: lavish cinematography, sets and costumes. The film looks stunning – but it looks identical to every other Burton flick (at least it's not in 3D, I guess), and those beautiful visuals are really let down by…
Fourth: a rotten script. Really, truly, honestly lousy. Dark Shadows doesn't have a storyline; it has a string of dumb, plodding scenes and never-very-funny jokes that limp towards a climax so stupendously boneheaded you'll wonder whether the filmmakers actually watched the original series or if they just scanned the Wikipedia page in an airport lounge this one time.
Look, the original Dark Shadows is not Shakespeare. It really isn't. It had its share of dumb, plodding scenes. But there are things I'll forgive in an low-budget soap from the late '60s that I can't forgive in a big-budget Hollywood blockbuster released in 2012. Avoid the film, pick up the TV show and a bottle of vodka, have a really great night.
Tags: Dark Shadows, Helena Bonham Carter, Jonathan Frid, Tim Burton