Sunday, May 27th, 2012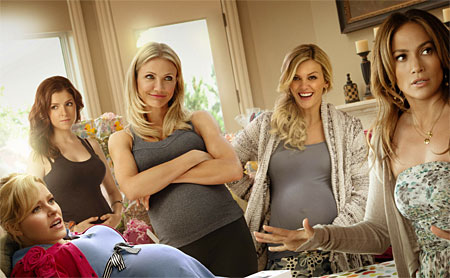 Look: You already know you aren't going to read a glowing review of What To Expect When You're Expecting here. The most positive thing to say about this movie is: It's not any worse than you think it's going to be. (The trailer really does tell you what you're in for.) We probably all agree Hollywood is yet to master the "ensemble comedy", and Expecting meets the standard set by previous efforts like Valentine's Day and He's Just Not That Into You.
Like that last movie, Expecting is also "inspired" by a non-fiction book that didn't have a plot. So it invents several women, each preparing for a kid in different ways: Elizabeth Banks finally conceives after trying for a while, and discovers pregnancy is kind of super-gross. Anna Kendrick is knocked up after a one-night stand with Chace Crawford. Jennifer Lopez is adopting with her reluctant husband Rodrigo Santoro. And Cameron Diaz is the host of a weight-loss reality show who falls pregnant to the guy she's paired with in a celebrity dance competition (hers is the most relatable plot).
(The actors play characters with names, obviously, but as if anyone out there is calling Jennifer Lopez's character "Holly" and not just "Jennifer Lopez".)
I admit I'm way outside Expecting's target demographic. (Though I did eat a massive burrito the other week, which provided a valuable insight into what it's like to know your body is inevitably going to expel something huge and squishy.) This maybe explains why people in the cinema laughed at scenes that I responded to with an expression that looked a lot like this. But a movie about pregnancy should have something interesting to say about pregnancy. And this movie about pregnancy… doesn't.
Example: Banks endures a spectacularly awful, everything-that-can-go-wrong-does-go-wrong, she-pees-herself-a-lot gestation period.  She learns the miracle of life isn't actually that miraculous – until she gives birth, and learns it's exactly as miraculous as every movie ever says it is and basically her entire storyline is swept away! Worse example: Kendrick and Chase don't want their kid, yet they never talk about abortion. (There's one scene where it seems like they're talking about it, but it turns out they're actually pondering whether they should get married.)  That's not just unrealistic. It's cowardly. And it's boring.
Like… no financially stricken couple struggling with the cost of having a child? No same-sex parents trying to fit into traditional family roles? No single mum attempting to do it on her own? No one deeper and more thoughtful than the milquetoast (yesssss I love when I get to use that word) lot on parade here?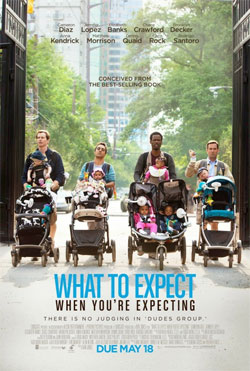 Expecting has so little to say about pregnancy that it has to pad out its nine-month 110-minute runtime with subplots about the male characters. I guess these were included to make the film more accessible to men or whatever, though all the guys onscreen are so lame it has the opposite effect.
Especially Santoro's plot, which provides the weakest, dumbest scenes in the movie: His character tries to get excited about fatherhood by joining a dad's group, whose members are walking comedy routines. (One of them is played by Chris Rock, whose lines are basically just stand-up bits cobbled from lame '90s sitcoms.) These so-called men are emasculated by their wives. They have pathetic man-crushes on alpha-bros. They bitch about the burden of their families. Oh, but it turns out deep down they're all super-happy, like, of course they are because life is simple and uncomplicated and parenting is just the best ever.
I haven't read the book What to Expect When You're Expecting (I did leaf through it when my sister was growing my nephew; it's full of icky revelations about how pregnant women's toenails bleed mucus or whatever. Respect, ladies), but I know for a fact it doesn't have any of that kind of embarrassing dad's group B.S. in it, because no way would it've become a popular bestseller if it did.
Honestly, I walk away from movies like this thinking two things. First: Hollywood is really not trying hard to make smart films about women. We are not in a post-Bridesmaids lady-movie renaissance, you guys. Second: Christ, it's good to be gay. Like, seriously, this is the model for heterosexual behaviour? These are the gender roles and expectations straight couples are told to aspire to? Ugh. Gross. I feel sorry for you breeders if that's true.