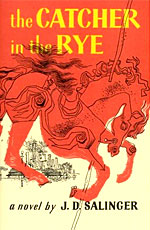 Okay. Normally I review all the books I read here, regardless of when they were published, because why the hell not it's my blog I do what I like. But you don't review The Catcher in the Rye. You don't review The Catcher in the Rye. It's one of the most important, most discussed, most critiqued books of the 20th century. You don't just drop in all, "Oh boy I sure get a bang out of this book and isn't that Holden Caulfield sure surrounded by a lot of lousy phonies?"
(I've read Catcher several times now and every time I get stuck in a lousy/crummy/phony loop for a couple weeks after, so bear with me here.)
So my review of this book is: this is a terrific book. But really this post is: if you haven't read this book, read this book. Buy it. Borrow it from the library. Pirate the ebook. Maybe you'll get a kick out of teenage protagonist Holden and maybe you won't – whether you like him is almost beside the point. His despair and loneliness and hopeful desperation vibrate truth, and pretty much every angsty young character since is just a pale Holden imitation.
(Also – and maybe I'm projecting here, but again, it's my blog and I do what I like – Holden is absolutely a homosexual. Yes he is.)
Read Catcher in the Rye. Read it. (At the very least, you'll be able to casually mention to people you hardly know that you just finished The Catcher in the Rye and they'll think you're literary, which is honestly the best reason to read literature.)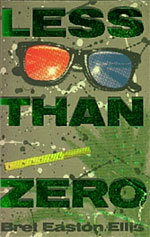 Immediately after finishing Catcher I moved on to Bret Easton Ellis's Less Than Zero, a novel that pretty explicitly follows on from Salinger's: both are about rich, disaffected young men struggling against the realisation that life – or, more accurately, enduring life – is hard.
(By the way: I don't recommend reading these books in tandem. The themes are too much. It's depressing.)
First: Ellis published this when he was 21. So fuck you for writing so good when you were 21, Bret Easton Ellis. Second: like I said, Ellis is a great writer. But his style is (infamously) brutally nihilistic, and sometimes it wavers close to brutal nihilism for the sake of brutal nihilism. This obscures the portrait of his protagonist Clay, who's hard enough to know as it is. (Astoundingly, Wikipedia alleges that Zero's first draft was "incredibly emotional and over-wrought", which is so un-Ellis-ish and bizarre.)
Previously: Book review: Exit Through the Wound, North Morgan