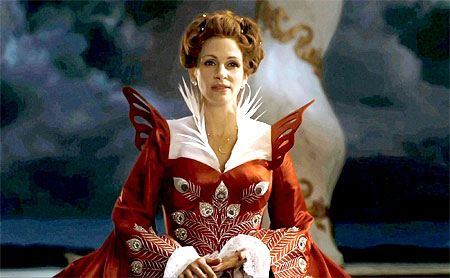 Remember those silly, campy, lots-of-zany-"boing!"-sound-effects bits near the start of Moulin Rouge? Mirror Mirror is basically an entire movie of that.
This is Snow White, but not as you "snow" (ha) it: Mirror Mirror takes the classic fairy tale, shatters it, puts it back together with the dexterity of a blind street urchin on a sugar high. The story's most familiar elements remain mostly intact. A wicked queen (Julia Roberts, who's having FUN) terrorises her fairest-of-them-all stepdaughter Snow White (Lily Collins, who's got EYEBROWS. Lord, has this girl got eyebrows), casting her into a spooky forest where she's adopted by seven dwarves ((Tolkein spelling, yeah!)) who each embody a different quirky character trait, like Fat, or Frowny, or Short.
The notable departure from that original is, now that we've solved sexism, you can't just have a handsome prince sweeping in to save the helpless pure maiden from an evil older woman who symbolises icky female sexuality. Mirror Mirror gets around this by making its handsome prince, Alcott (Armie Hammer), a buffoon who's rescued by Snow White as much as she rescues him. (He remains, however, extremely handsome. And frequently shirtless!) Handily, Snow White gains both skills with a sword and a chic haircut (presumably given to her by the Fashionable dwarf), allowing her to fight alongside her prince and defeat the queen together.
You need to be in a certain frame of mind to enjoy this movie. Approach it one way, it's fluffy fun. Approach it another way, there's a desperation to convince you that everyone onscreen is having such fun (nowhere is this more obvious than the inexplicable, wildly off-key, isn't-this-so-such-fun Bollywood dance sequence that plays over the closing credits. No, really).
In the film's favour, Roberts gets off some good one-liners (even if she does say them in an accent she apparently learned watching high-schoolers perform Shakespeare), while Hammer throws himself into the thing with admirable energy (and handsomeness. Though it's a shame his identical twin brother couldn't star in this one too). The weak link is Collins, a sweet lick of nothing who never makes much of an impression… aside from those eyebrows of hers.
Given it's directed by Tarsem Singh, Mirror Mirror isn't as visually over-the-top as I expected. There's a smallness to the look of the film – I swear that isn't a coded dwarf joke – which focuses the sense this is a ultimately a children's film that adults might enjoy.