Book review: Red Glove, Holly Black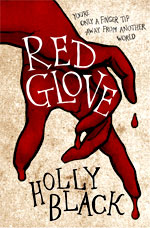 The best argument against the existence of the supernatural is this: if all that stuff was real, someone would exploit it for profit. (There's a great xkcd comic about it.) In Holly Black's series The Curse Workers, magic is real – and it's exploited for profit.
Curse workers – those who possess the ability to alter memories, invade dreams, transform one thing into another, or other fantastic powers – rule New Jersey's organised crime. Think The Sopranos with magic, but instead of a focus on Tony Soprano our hero is Cassel Sharpe, the youngest member of a worker family tangled up with a powerful mob syndicate.
White Cat, the first Curse Workers instalment, detailed Cassel's discovery of his place within his family and the worker world. It was a great book, honestly, but felt light-weight despite its heavy themes – high on set-up, low on plot. But! All that establishment in White Cat means we know the rules coming into its sequel Red Glove, freeing Black up to get into the meaty stuff. And she gets right to the meaty stuff.
(Some spoilers ahead for White Cat.)
Cassel's life is not so hot: he's on the outs with his brothers after the events of White Cat, his mum has destroyed his love-life, and he's being stalked by FBI agents keen on bringing down Jersey's most powerful worker families. After one of his brothers is killed, Cassel has to choose what side of the law he wants to be on – while solving the murder, scamming his way out of trouble, and getting his schoolwork done.
Like White Cat there aren't many surprises in the plot of Red Glove, but this time around it matters less. That's because Black's universe is so solid, thanks to her convincing exploration of the politics of a world where some people have magic (and where you're pretty much assumed to be a criminal if you're among them). One of the book's best scenes is when Cassel and his friends attend a rally against laws that threaten to impose harsh restrictions on workers, and the protesters rip off their gloves to show their bare hands. Cassel is shocked; no one ever goes glove-less, for fear of exposing themselves to black magic. It's a rich detail, with shades of the X-Men movies.
Black's writing is spare and polished (there's a clunker of a line about a woman wearing a jewel that looks like a drop of absinthe, but it only stands out because the rest of the text is so clean), and smart. A dumb writer would write a book about magic people in a magic world and have them do magic every other page. A smart writer – a smart writer like Holly Black – has her magic people do hardly any magic at all. Which means her story, for all its fantastic detail, is a human one. Which makes it that much more compelling.
Previously: Book review: White Cat, Holly Black
Tags: Black Heart, Cassel Sharpe, Holly Black, magic, noir, Red Glove, The Curse Workers, White Cat, X-Men, xkcd, YA