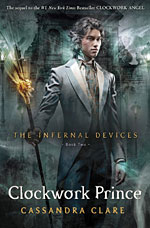 Clockwork Prince is Cassandra Clare's sixth book, on top of a heap of her fan-fiction, so by now we know what kind of writer she is. More importantly, she knows what kind of writer she is, and Prince is laden with her hallmarks: zippy banter; (borderline pretentious, questionably necessary) literary quotes and references adorning every other page; irresistibly beautiful but tortured bad boys to entice the plucky heroines.
It'd be so easy to write Clare's books off as florid trash – and they are certainly floridly trashy – except there's something about them that just works. Even when the dialogue sounds more like something from a contemporary teen drama than 19th-century Victorian London, you keep reading. Even when the stakes of the plot seem to have nicked out for a cigarette break (a long one), you keep reading. Even when Clare tosses in yet another "They almost kissed but something interrupted them"-style, super-melodramatic cliffhanger… yeah.
(Minor spoilers ahead for Clockwork Prince's prequel, Clockwork Angel.)
The "clockwork prince" of the title is Mortmain, a shady fellow with ties to London's Downworlders – Clare's collective term for vampires, werewolves, warlocks, and other supernatural riff-raff. He had a hand in the mysterious birth of Tessa Grey, who's grown up to learn she can take on anyone's physical appearance, though she's still yet to discover the true origins and nature of her power.
In Angel, Tessa fell in with London's Shadowhunters, particularly the handsome but emotionally unavailable Will – a character delivered straight from the Cassandra Clare Factory for Devastatingly Handsome But Emotionally Unavailable Male Leads – and his kind-hearted best friend Jem. In Prince, the trio is tasked with uncovering Mortmain's dastardly master plan, which apparently involves building menacing robots to kill all the Shadowhunters.
The Shadowhunters spend most of their time gossiping about Mortmain, yet strangely, he never appears in the book named after him. It means there's never any real threat to Clockwork Prince – no jeopardy. Sure, there's a subplot about mean Shadowhunters wanting to kick Tessa's allies out of their headquarters. But there's never any sense that anything bad will actually happen, and the book kind of shuffles to a close without ever really challenging its characters. In the last few pages I expected something shocking to jump out and ruin everything. It doesn't.
The problem, I guess, is that Prince suffers from classic "middle instalment in a trilogy" syndrome. It's a bridge between the origin story and the grand finale, without much to prop it up on its own.
But I doubt that will matter much to Clare's ardent aficionados, who read these books for one thing: sex. And there's plenty of that. Sexual tension runs high between Tessa, Jem, Will, and all the supporting characters – conveniently, Shadowhunters' mores are way more relaxed than those of their Victorian peers. There's love potions and secret weddings and nighttime trysts and more and more and more and more till the book practically throbs in your hands.
It is ridiculous. And yet, I will keep reading.
Previously: Clockwork Angel, Cassandra Clare