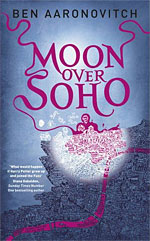 Best thing about reading the second instalment in a series: the origin-story stuff in part one is over and done. Not that origin stories aren't a fun time, but there's a formula to setting up characters and plots and tone, and once a series is freed from that formula it can start to shine.
Moon Over Soho, the follow-up to Rivers of London, offers a pretty good indicator that Ben Aaronovitch's wizard-police-in-London series – I think we're calling it the Peter Grant series? Which isn't that catchy  – is starting to shine.
So the story picks up pretty much where Rivers left off: budding policeman/wizard Peter Grant has closed his first supernatural case, and continues his magical education under the tutelage of his Stephen Fry-ish inspector, Nightgale.
Working out of the Folly, the nickname for the posh old building that is the headquarters of London's magical police, the twosome discover a new mystery: the city's jazz musicians are dying, the life force sucked right out of them, sparking theories there's a "jazz vampire" afoot. It's all as messy and ridiculous and fun as it sounds.
That sense of fun is down to Peter, who's a fresh, likeable hero: Aaronovitch has created a leading man who doesn't take his unlikely adventures too seriously, is streetsmart but not wisecracky, capable without being annoyingly perfect, and who actually gets to have some actual sex this time around. (Seriously, this series is ripe for a magicked-up, oversexed True Blood-ish television adaptation. Get on with that, British TV bosses!)
The history of London is woven into the plot of Moon Over Soho more smoothly than in Rivers of London, as Peter dashes around the city meeting new characters, reacquainting himself with old ones, probing the tragic history of English wizardry, and stumbling on to the fringes of a cabal of evil wizards. It's this kind of world-building that leaves me double-keen to see what magic Aaronovitch will work in the forthcoming third instalment, London Under Ground.