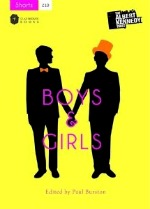 There isn't really a definitive gay experience of life, any more than there's a definitive heterosexual experience of life: stereotypes aside, homos come in so many colours (a whole rainbow, as it were! Ha ha ha) that you can't really sum us all up in one uniting story.
Boys and Girls is a collection of short stories by gay and lesbian authors that touches on some of those many facets of homosexuality. Split by gender, these tales are sometimes funny, sometimes touching, sometimes sad. (But not always brilliant – after all, no short-story collection is completely without one or two less-than-stellar entries.)
I picked up the book for the short story 'Exit Through the Wound' by North Morgan – aka London Preppy – who's a terrific writer. 'Exit' follows a Londoner's drug-assisted return to a home country and a culture he no longer connects with, and the sense of disaffection and alienation is powerfully articulated. (If there's one thing Morgan is great at, it's disaffection and alienation.) But it's funny, too! I'm super-keen to read Morgan's debut novel, also titled Exit Through the Wound.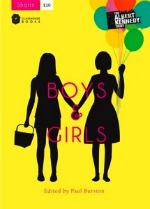 Other standouts in the boys' half include Kristian Johns' 'Dying and Other Superpowers' about an 18-year-old who develops superpowers after he's diagnosed with HIV. It's a shame this is just a short story, because it's a great concept that's constrained by its teensy word length. 'The Unbearable Bear', written by the collection's editor Paul Burston, is also neat, about the mild-mannered narrator's (inexplicable) acquaintance with a narcissitic, shallow, approaching-middle-age homosexual; it'll resonate if you're acquainted with a narcissitic, shallow homosexual of any age.
My favourite story is in the girls' section: it's V.G. Lee's 'Knitting for Beginners, 1960', the tale of a 10-year-old English schoolgirl and her crush on the most popular girl in her class. Talk about a nostalgia hit to the adorable naive innocence of my own prepubescent infatuations – that raw urge merely to be liked by the object of one's affections. It's just lovely.