Book review: A Storm of Swords, A Feast for Crows, and A Dance with Dragons, George R.R. Martin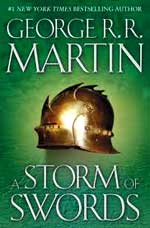 WOW OMG WTF. A Storm of Swords, the third entry in George R.R. Martin's fantasy epic A Song of Ice and Fire, is amazing. It's taut. It's brilliantly suspenseful. Especially… that scene! That one scene! And the ending! That cliffhanger!
You know what I'm talking about if you've read it, but if you haven't – go read it! (That is, read the first two books and then read this one, or watch the first season of the TV series Game of Thrones and then read the second book and then read this one. Obviously, don't read it standalone. That's stupid.) But don't spoil yourself! Because the shock and surprise of this thing is like whoa. I stayed up till 2am – on a school night! – reading the approach to and aftermath of that one scene, because how could you read that one scene then just go to sleep, and the following day at work I was torturously tired but kept sneaking extra pages when no one was looking. It's that kind of book.
Spoilers ahead for Sword Storm, Crow Feast and Dragon Dance. (Aren't those clever nicknames?!)
One of Martin's most admirable traits as a writer is that he's unafraid to upend the world he's created in unpredictable ways. Most book/movie/TV series, you know that the main characters – the ones whose point-of-view informs the story – is safe. This is fairly standard. But not in Ice and Fire!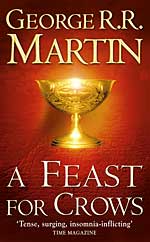 A Feast for Crows I didn't like as much as Storm of Swords, but I still liked it. Remember that – it's going to sound like I didn't much like it. Because the momentum of the series pretty much stops. You can actually hear the breaks squealing as you read the book, which focuses mainly on secondary and minor characters – Cersei, the Ironmen (who I had a tough time giving a shit about, to be honest) – and doesn't really advance the storylines of the more major characters – Arya, Sansa, Brienne.
I count myself lucky I had the luxury of jumping straight from book three to book four to book five. I can't imagine how frustrating it must've been for long-time aficionados to wait five years for a book that doesn't much resolve anything (then have to wait another five years for the next one). Martin offers a reason for this – a story from the perspective of all his characters would've been impossibly massive – but still. It's akin to only getting to meet one half of your favourite comedy team.
(So I understand the fan backlash against Martin, because it's so easy for passion to swing from positive to negative, but – seriously, you entitled brats. Neil Gaiman is right: George R.R. Martin is not your bitch((Which some guy put to music!)).)
What is interesting about this book is what it says about the pretty terrible lot of women in medieval times1. This is a recurring theme in Ice and Fire, and it's most explicit in Feast for Crows: Cersei grumbles that men would take her more seriously if she knew how to wield a sword – both the literal and figurative kind – but Brienne, one of the best characters in the series and its most formidable warrior, isn't taken seriously either. And while Cersei is (such) an idiot (I mean jeez she's an idiot), it's hard to agree that she'd get respect if she didn't have the gall to be female – ditto Brienne, who has the gall to be female and a pro swordswoman and not even physically attractive! The nerve!
(That said, Cersei's lesbian sex scenes are really very silly and gratuitous.)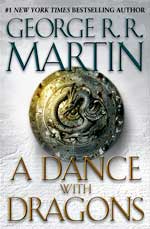 A Dance with Dragons finally moves the pieces forward by returning us to the most important characters: Daenerys (Danaerys? Denayres?), Tyrion and Jon. Hurrah! Except for the bit where you spend the whole book waiting for Daenerys and Tyrion to meet and they don't, and Jon is stabbed to death at the end (as if he is dead), and it'll be years and years till book six The Winds of Winter is out, and you are such a tease, George Martin.
It's a pretty thrilling read – though a good edit might've made it more thrilling. Many chapters are like "Filler filler filler filler exciting bit right at the end!", though I suppose you can argue that filler enriches the world Martin has created. A god, is it rich. Westeros is a real, breathing, sprawling world, and that is an incredible achievement.
Okay, theories theories theories: so, Jon Snow's mother. It's Lyanna Stark, right? And Prince Rhaegar is the father? And Eddard-is-Jon's-dad is a red herring? A spot of Googling reveals that the fandom has long speculated about this. Anyway, I guess we'll have confirmation eventually.
Honestly, I'm kind of relieved I've finished A Song of Ice and Fire. Now I'm free to read other things!
Previously: Book review: A Game of Thrones and A Clash of Kings, George R.R. Martin
Alyssa Rosenberg's essay on this topic is particularly good. [↩]
Tags: A Clash of Kings, A Dance with Dragons, A Feast for Crows, A Game of Thrones, A Song of Ice and Fire, A Storm of Swords, fantasy, Game of Thrones, George R.R. Martin, Jon Snow, Neil Gaiman, spoilers, The Winds of Winter