Book review: A Game of Thrones and A Clash of Kings, George R.R. Martin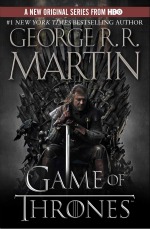 Confession: I never heard of George R.R. Martin nor his epic fantasy series A Song of Ice and Fire till HBO adapted the first instalment, A Game of Thrones, into the article-less TV series Game of Thrones. Which is amazing! I was hooked the moment [spoiler] pushed [spoiler] out the [spoiler], and officially loved it after [spoiler] had his [spoiler] [spoiler], then upgraded to love-it-like-a-crack-addict-whore-loves-crack when the season ended with [spoiler] [spoiler] [spoiler]!
Craving more, as junkie addict whores often do, I turned to Martin's books. By the way, you probably don't need to read A Game of Thrones if you've watched Game of Thrones and feel like you have a pretty good understanding of it. (HBO's official site is a big help here.) The TV show is super-faithful to the novel, so (assuming you're not one of these sissy-nutso-pansies who refuses to read the books for fear of spoiling the TV show) you ought to be able to leap into book two, A Clash of Kings, without much difficulty.
But reading A Game of Thrones is recommended if you plan to become a hardcore Westeros nut. Martin's fantasy world is massive, and the TV series cuts out a bunch of stuff. I already knew the book's plot from watching the TV show, but while reading it I had a bunch of "Oh, he's that other guy's son? Oh, that guy they keep talking about is the king's brother? Oh, those two really didn't murder that other guy?"-type moments. You miss out on those details if you stick solely to the TV series.
It doesn't hurt that A Game of Thrones is also a good book! I guess technically you'd categorise it as fantasy, though that seems pretty reductive. Probably adventure-murder-mystery-medieval-political-epic-fantasy would be a better fit, because at least then I wouldn't have to keep trying to explain that just because it's a fantasy novel doesn't mean it's about wizards and dragons and guys with huge swords. (Even though it is kind of about dragons and guys with big swords. But not in that way! Why does fantasy still have that stigma attached to it!)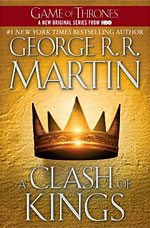 Then there's A Clash of Kings, which picks up right where A Game of Thrones finishes. So if the TV show's season finale left you with a hardcore Westeros craving, reading the book is exactly like getting the most detailed spoilers ever for season two!
And, for the most part, Clash of Kings avoids that sequelitis things where everyone paddles into place for the next instalment without doing much. Not all the stories move forward will equal momentum – I'm thinking of mostly Arya (my favourite!) and Daenerys? Danaerys? Denayres? – but there's a lot going on. How the heck did Martin keep track of all these plots and characters, anyway?
So: watch the TV series. Even if you're one of these "I hate fantasy!" people. It's not about dragons and wizards! (Well. It's not just about them, anyway. Maybe a tiny bit about them. But hardly at all.) Then read the books. You will suffer terrible insomnia for a couple of weeks. But it's worth it!
Tags: A Clash of Kings, A Game of Thrones, A Song of Ice and Fire, Arya Stark, Game of Thrones, Game of Thrones: Clash of Kings, George R.R. Martin, Westeros