Book review: White Cat, Holly Black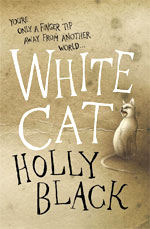 Young adult meets fantasy meets noir in the captivating novel White Cat from Holly Black, the first entry in her new trilogy The Curse Workers. (Book two, Red Glove, is out in a couple of months. Hurrah!)
Our hero is Cassel Sharpe, though hero isn't quite the right word: he's a murderer, who accidentally killed his first love Lila several years ago. Now in his late teens, he's still so traumatised, so wracked with guilt, that he's sleepwalking – the very first scene has him waking up on the roof of his school, precariously close to the edge. (Fantastic opening, by the way.)
Cassel has a messed-up family: they're curse workers, with powers to manipulate people's emotions, hurt people, erase their memories, influence their luck. That sort of magic is illegal, driving curse-workers underground – making them gangsters, mobsters and con artists. Cassel is the only non-criminal in his family… if you overlook that whole "he killed someone" thing.
The complication: Lila, that someone he killed, was the daughter of a powerful curse-worker boss, forcing his family to cover up the crime.
After Cassel's disturbing dreams about a white cat get him booted out of school, he starts to suspect his brothers are involved in another massive con – one he's unknowingly tied up in too.
The noirish details are perfect: Cassel is an alluring antihero (without being a bad boy, that most overdone of YA creatures), clever and introspective without being whiny, and Black slowly draws her oh-so-intriguing story out of the shadows.
But the problem with White Cat is that it feels a lot like the first entry in a trilogy. That's not to say the story isn't satisfying, because it is, immensely so, but it feels very… linear. There isn't a lot going on away from the main plot, and the twists in the story are pretty predictable (though to Black's credit she reveals them about halfway through and builds on them for the climax; if she'd saved them for the end it would've felt pretty limp). I finished the book with a sense of… dissatisfaction, like I only ate half a plate of a mouth-watering meal.
That said, the set-up is so rich that if Red Glove can keep up the atmosphere and suspense of its predecessor, it's pretty much a surefire winner.
Tags: bad boys, Cassel Sharpe, Holly Black, magic, noir, Red Glove, The Curse Workers, White Cat, YA