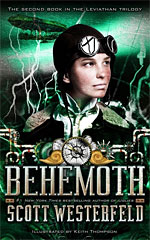 So I'm not a huge fan of Scott Westerfeld's Uglies series – it didn't really grab my imagination. On the other hand, the Leviathan series reaches into my brain, rips my imagination right out of its imagination-tubes (that's how brains work, right?), tears it into pieces, and eats them.
When I reviewed book one in the trilogy, Leviathan, I dubbed it "ace". Book two, Behemoth, is therefore ace-er. The elements that made Leviathan such a great read – World War I alternate history setting, genetically altered beasties, clanking steam-powered machines, girls-disguised-as-boys, ripping adventure – are ramped up as we follow our heroes Deryn and Alek to Constantinople as they attempt to diffuse the tension between the Darwinists (the rough equivalent to our world's Allies) and the Clankers (the Central powers).
I've noted before that Westerfeld excels at world-building, and his research trip to Turkey while prepping Behemoth definitely paid off with the richness of the settings.
(This next paragraph has some spoilers for the plot, so skip it if you're yet to read the book.) So I suppose my criticisms of the book are really just frustrations with the fact that I have to wait a while for part three: though the relationship between Deryn-disguised-as-Dylan and Alek thickens nicely, it feels like he should've discovered her true gender by now – that the tension will be dragged out to the next instalment is a bit much.
(Actually, my biggest criticism with the book is nothing to do with Westerfeld: the cover of book two doesn't match the cover of book one. I hate when publishers switch the covers mid-series!)
On the other hand, the mysterious eggs in Leviathan hatch into something chin-scratchingly intriguing (not to mention unbearably cute) in Behemoth, and Westerfeld (who must have been inspired by this video when he wrote in this character) drops tantalising hints that this subplot will have an awesome pay-off in book three, Goliath – which I have high hopes will be the ace-est in the trilogy.