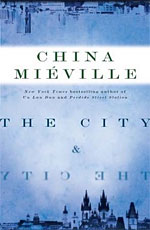 The City and the City pretty much boils down to "the old versus the new". First, the old: this is, at heart, a detective novel of the hardbitten classic variety, wherein world-weary investigator probes violent death of seemingly mundane woman and stumbles into much larger mystery which shadowy forces conspire to stop him solving.
China Mieville's detective here is Inspector Tyador Borlu – a rather affable chap, especially by the hard-drinking, hardboiled standards of the genre – a life-long resident of Beszel, a history-rich Eastern-European city that's falling to pieces as it absorbs bits of the modern world. Borlu speaks on his mobile phone while dodging trams and street vendors, struggles to fire up the internet in his crumbling apartment block. (Mieville's descriptions of Beszel are marvellous, evoking dark blues and concrete greys; the place feels so vivid.)
The old in The City and the City would, on its own, add up to a great-if-not-especially-memorable read. But it's the new that is so dazzlingly clever and effortlessly complex: Borlu occupies the same physical space as another city, Ul Qoma. One location, two cities. They overlap, blurring into one another while maintaining separate identities: Ul Qoma's culture is different, its economy wealthier, its skyline punctured with shiny skyscrapers.
Here's where it gets interesting (well, more interesting): the respective citizens of Beszel and Ul Qoma can see each other, but they've learned to "unsee" each other. Acknowledging the other city, or crossing between the two, is a srious crime that invokes Breach – the shady agency that comes down hard on rule-breakers.
This makes Borlu's investigation tricky. It's unclear which city the victim was actually murdered in. He believes the whole case should be handed to Breach – though someone is refusing to move it up the chain, forcing Berlu to stick with an increasingly perilous investigation. In the hands of a less capable writer the unfolding plot of The City and the City would have become hopelessly byzantine, but Mieville keeps the details nailed to the page. I admire his creativity – the book has one hell of a premise – but his plotting and style are just as admirable.
Now I gotta go read The Windup Girl, which tied with The City and the City for best novel at the recent Hugo Awards. If it's as absorbing and impressive as City it's a must-read.