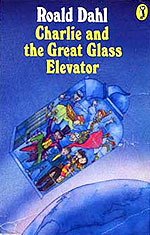 I was pleasantly surprised to discover recently that there was to be a third book in Roald Dahl's Charlie series, titled Charlie in the White House. It would've furthered the story started in Charlie and the Chocolate Factory and continued in the considerably-less-well-known Charlie and the Great Glass Elevator.
It's unknown what Charlie in the White House would've been about, beyond the obvious implied in the title. In Glass Elevator Charlie and Willy Wonka rescue an American space hotel overrun by Vermicious Knids (among other things; the scariest and therefore best part of the book comes when one of Charlie's grandparents takes too many age-reversing pills and has to be rescued from Minusland, a gloomy underworld inhabited by the Gnoolies), and in recognition of their feat they're invited to visit the White House by President Lancelot R. Gilligrass, a buffoon in the thrall of his strict nanny.
Presumably Willy Wonka would've mindfucked Gilligrass a little more in Charlie in the White House but Dahl only wrote one chapter, which is apparently on display in the Roald Dahl Museum in England. Unfortunately they don't have said chapter available on their website – a shame, since there must be a tonne of adults out there with fond Charlie memories (like me!) who'd love to know what Dahl had in store for him next. Maybe next time I'm in England I'll pop in and ask to have a quick read.
(Pictured: the Glass Elevator cover I had as a child. Probably the only Dahl book I owned that wasn't illustrated by Quentin Blake.)