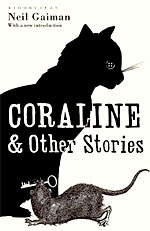 The last time I reviewed a Neil Gaiman book I noted that his authorial voice is one that people seem to either like (usually a lot) or they don't. But, I don't get how you wouldn't like it! His writing is conveniently tailored to fit my interests: it's imaginative, clever, eerie and a little bit creepy.
Coraline, I think, I would've been into bigtime as a kid: I loved (and still love) stuff that was scary but not gruesome, and Coraline fits into that niche with classics like The Witches. (Sidenote: I must've read The Witches a hundred times as a kid. I subsequently developed a terror of women with seashell noses, and I can't wait for Guillermo del Toro's adaptation.)
Much like Alice's Adventures in Wonderland, Coraline is about a young girl who ventures into a strange land, but where Wonderland is eccentric-creepy, Coraline's otherworld is creepy-creepy. It's ruled by the Other Mother, a sinister matriarch with buttons for eyes. Gaiman smartly declines to reveal too much about the origins of the Other Mother and her powers, or about the nature of the mirror world Coraline winds up in, and it's the mystery that makes it spooky.
Also highly recommended: Henry Selick's film adaptation of Coraline, which is also wonderful.
My copy of Coraline is part of the Bloomsbury Phantastics range, and includes several of Gaiman's short stories. Some of them I've previously read, either online or in Fragile Things, but even the ones I'd come across before are definitely worth re-reading. The highlights are Sunbird, about an epicurean club whose members decide to eat a phoenix; October in the Chair, which ties nicely with The Graveyard Book; and Don't Ask Jack, a genuinely unsettling tale about a spooky jack-in-the-box and its effect on the lives of the children who own it. (It's one of the shortest stories in the collection, but also the scariest.)
I realise that at this point it's cliche to profess one's adoration of Gaiman, but: he is such a great writer.